Essentials For Getting Your Home Ready For Summer
Now that we're starting to enjoy the lovely weather of spring, it's time to begin thinking about getting our homes ready for the summer. Spring is a well-known time of the year for housework, much-needed maintenance after the winter and spring cleaning, so it's a good idea to get started soon. The sooner you get going to sooner you can enjoy your home and garden throughout the summer without worrying about all the tasks that need to be completed.
On top of this, we are all currently experiencing a strange and unusual time with the COBID-19 pandemic, meaning that the majority of us are spending a lot more time at home. Although this is an uncertain time and sometimes we can be left feeling a little trapped, remember you are in your safe place, so, let's use some of this time for good and get a head start on some of the work needed to get our homes ready for the summer.
Let's have a look at some of the tasks you could get started with below:
Clearing Out
Although it's a little bit difficult to have a proper clear out if you need to make use of recycling centers, as they are closed at the moment, it doesn't mean you can't get started with clearing a few things out of your home. Think about setting up a designated area outside your home and try to find a storage place for charity donations inside your home where you can store items that you are planning on getting rid of at a later date. Anything that you haven't used in a while that you are unlikely to use again in the future can go in the charity donation pile and anything you are planning on getting rid of can go into your storage area outside. Clearing out the items in your home that you no longer need is a great way to get started with getting your home ready for summer as it clears the way for you to complete other tasks.
Spring is certainly well-known for the best time of the year to complete a deep clean, in fact, your home really needs it after the winter months. The wetter weather tends to lead to more dirt and germs being brought into your home without you realizing it. This time of the year you should think about deep cleaning certain areas of your home such as the carpets, floors, tiles, skirting boards, railings and your kitchen and bathroom. Include areas like the kitchen cupboards and under any furniture. Dust bunnies tend to hide under furniture, especially if you have wooden flooring. You should also think about including your garden into your deep cleaning routine; de-weed, de-clutter and prune any plants that need it. As well as deep cleaning areas like your carpets you should think about cleaning things like your curtains, cushions, sofa, and mattresses.
Servicing
Surprisingly not many people think about servicing their appliances or get round to doing it. However, this should be an important part of your home care routine. You should think about servicing all the appliances that you use in your home including your fridge, freezer, boiler and air conditioning unit. When it comes to items like your air conditioning look for the best hvac companies, this is certainly something you're going to want ready for the summer! Dig out any warrantees that you have, make a list of all of the appliances in your home and go through them one by one. You should know how long each warranty has remained, follow the manufacturer's instructions for how to care for each item and make sure they are serviced properly. Not only will it extend the life of the appliances it will also leave you home smelling and feeling fresher.
Your Gardens
As mentioned above, your gardens should be included on your list of tasks to complete. You want to be able to move into summer knowing that you can enjoy your garden as soon as the nice weather arrives. We've been surprised by some lovely weather this spring so far, and it's forced people to get even more of a head start on their garden work as they have wanted to get in them as quickly as possible to enjoy the nice weather. You should start with simple tasks like de-cluttering and de-weeding and then if you need to move on things like painting the fences, laying new slabs, decking and replacing anything that is broken. You may need to deep clean your garden furniture and air out your parasol to make sure it is ready and in good condition ready for the summer. It's always a good idea to make sure you have some sort of storage for pillows, your parasol and a cover for your table and chairs when they're not in use.
Painting And Decorating
Once you have organized and deep cleaned your home it may highlight areas of across your home that could do with some attention. Because you are able to start having the windows open and there are now more hours that are light it's the perfect time of the year to start painting and decorating the areas of your home that need it. Whether it's adding in a new feature wall, completely renovating the kitchen or simply painting the white areas in your home, it's all going to make a difference and help keep your home maintained to an excellent standard. One of the easiest and quickest ways to give your home a fresh and new feeling is to paint or the white areas in your home including the doors, skirting boards, radiators, and railings. These areas can turn yellow very quickly without you realizing, you'll certainly be surprised when you start painting!
These are just five essential areas of your home that you should be looking at taking care of this spring. It's sure to get your home ready for the summer months! Do you have any other tasks that you are going to adding to your list? Please share them in the comments below.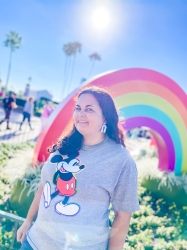 Latest posts by Krystal | Sunny Sweet Days
(see all)