How to Stay Productive While You're on Vacation
You've heard of the popular saying "work hard, play hard." As many of us live as entrepreneurs, it can be difficult to truly take a vacation and stay on top of our work. However, with a little planning and a few productive hacks, I can share with you, you actually are able to enjoy your vacation a little more than you think. These few tips and tricks can allow you more time to relax and less time stressing. So let's dive in!
Block Schedule – Something I started this year was blocking out times to work. It's one of the easiest ways to stay productive while on vacation and keeps me on task to get things done at certain times. It also allows me to view things for the day at a quick glance. You don't have to schedule a break for every day on your vacation though. If you set aside a few hour breaks while you're away and only work during those times, it'll help you keep on task and enjoy the rest of your vacation with less stress. This is such a game-changer for those that want to stay ahead, keep your focus and while also enjoying your time with loved ones. Color code your scheduling too such as writing, scheduling posts for the week or when to answer emails and DMs on your social media. This will give you a certain task to do for a certain amount of time and keep things crossed off that long to do list you have.
Hire A Robot – It may be difficult to even think this is real but there's a company called RoboWorx that has developed a way to help you be more productive with your mundane tasks. They use a Robotic Process Automation ( RPA ) which automates many of those manual handworks in our daily businesses such as entering data, processing invoices or issuing purchases that take time away from our creative style. This new technology helps the interaction between humans and business applications by watching your every move, logging into your application, opening your email and attachments, navigating through menus, copying and paste data and any other tasks that you may just loathe doing. Now, this incredible software is able to help you keep up your deadlines and allow you to work on your true passion opportunities that come your way! There are also several services that they offer depending on your business needs and goals and are able to help you set it up by step by step to ensure you are comfortable with the software, the tasks they are able to accomplish and the outcome that it will produce for you.  These services include helping with your HR Software Automation, scheduling, new hire software letter, employee data management and more. 
Try To Plan Around WiFi – You may not think about it but if you don't have WiFi to help you stay on top of work, it can really throw you off. Of course, there are several places that you travel that do offer you Wifi but that doesn't mean it's reliable either. Check your flight details when you book them to ensure that they offer this, certain sites can let you choose it. If you are booking a hotel, make sure that they offer these accommodations and services but also don't forget to make sure that reviews have not complained about the Wifi being slow or having difficulty connecting to it. There are also many wifi finder apps to help you if you need it as well.
Attempt To be A Morning Person – Vacation means you can relax and sleep in right? However, if you get up early it may give you that slight advantage you are looking for. While your team or colleagues are sleeping, you could get a jump start to your day and set up a few things in advance to make your day run a bit more smoothly. Schedule your emails to be delivered throughout the day, ensuring that those tasks are finished and you can focus on the bigger and better things that need your attention.
I'm sure there are many more other tips to help you stay productive while your on vacation. My biggest advice would be to not stress, make sure these tips are in place and do the best you can. It is vacation after all and while you work hard many months of the year, you do owe yourself to have some self care, relax and enjoy your time too. Work will always be there to make the most of the time you have, and the moments you're creating with loved ones. If this is a business vacation, make sure you block off time for you and your team to explore the new place you're visiting, a few pre dinner cocktails to get to know one another or even just a few hours here and there to decompress after a long work meeting.
Hitting the road? Don't miss these safety tips for road trips.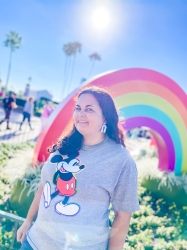 Latest posts by Krystal | Sunny Sweet Days
(see all)