Bathroom Organizational Printable: Get Clean With Angel Soft®
Thank you Angel Soft® for sponsoring this post. Ditch the spray and switch to Angel Soft® with Fresh Lavender-Scented Tube.
The bathroom may be the smallest room in the house, but it certainly gets dirty the fastest! Whether it is the amount of traffic going in and out of the bathroom, or the sheer volume of time that we spend inside this small room, the bathroom needs the most of our attention so that it can be so fresh and so clean. From cleaning to scents, here's how to get your bathroom ready for guests!
The first thing to do in your bathroom is to go through the cabinets. They may seem like they are "fine" since there are doors and all the clutter is unseen, however, clutter makes things hard to find, and eventually, that clutter spills out onto counters. Start by emptying everything from your bathroom cabinets and organize it by need or type of product. Look at expiration dates and toss away items that are past their prime.
Consider cabinet organizers. Use bins, baskets, and various containers to help corral similar items. I love this storage piece in my bathroom since I am able to hide items away in the bins on the bottom shelf. Everything from shampoos and soaps is down below, while fresh-smelling toilet paper is front and center in the baskets. A toilet paper dispenser is also very important!
Angel Soft® with Fresh Lavender-Scented Tube offers a fresh lavender scent, which is applied to the tube! Since the scent is in the tube, it helps deliver a fresh, slight scent to your bathroom. You won't need sprays or candles! Since I like to display my toilet paper in my organization shelf, it's nice to know that this lavender scent is greeting my guests. It makes my entire bathroom feel fresh!
Quick Organization Ideas
Download this printable here!
How can you keep your bathroom organized? Try Angel Soft® with Fresh Lavender-Scented Tube to make your bathroom feel fresh!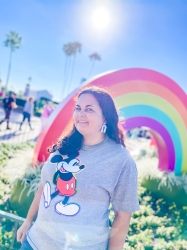 Latest posts by Krystal | Sunny Sweet Days
(see all)