How To Make The Most Of Your Next Holiday Adventure
Everyone loves a vacation, but the harsh reality is that they do not come around nearly as often as we'd like. Therefore, it's imperative that you make the most of your next adventure. The only way to do that is by putting the right preparations in place.
Wherever you're planning to go, the following steps will help make it happen.
#1. Visit At The Right Time
When planning the perfect holiday, the right choice of location is naturally one of the most important factors. However, many people fall into the trap of underestimating the importance of timing. Understanding peak versus off-peak travel to a destination doesn't only influence the costs. Climates can contrast massively between the different seasons while some attractions may be shut too. Essentially, your entire experience will be shaped by the timing. So, be sure to familiarize yourself with the potential impacts before you book anything.
#2. Don't Overlook Your Appearance
When you look good, you feel good. While a vacation is your chance to let your hair down, you'll want to feel confident as you do it. Shopping for a few holiday outfits is always one of the most exciting aspects of the pre-holiday preparation. Meanwhile, knowing how to care for your skin while you travel is another essential step. Perhaps above all else, you should find a suitable holiday hairstyle that can be easily maintained. Or adjusted to suit different situations. After all, there's little use in looking amazing on day one before seeing a massive decline by day three.

#3. Think About The Activities
We all enjoy lazing by the pool for a day or two. Still, nobody wants to return home with regrets that they've missed out on the opportunity to explore stunning locations. Therefore, it's vital that you know how to focus on staying productive on vacation. While a little spontaneity is crucial, creating a list of the best attractions that you wish to see will make a significant impact. On a related note, you should think carefully about who you go on vacation with. When you spend time with someone that's needy and doesn't want to do things, it can quickly ruin your fun.
#4. Focus On The Accommodation
There's no single right answer as to which type of accommodation should be selected. Still, you may want to hold back from rushing straight into a hotel booking. The privacy of a hired villa or holiday property can be very comforting. Anyone hoping to explore the area should consider the location of their chosen accommodation. From a financial perspective, you should also scrutinize whether special features are needed. The gym or business office suite might look great in a brochure. But if you're not going to use it, what's the point?
#5. Capture The Moment
Time flies when you're having fun. The worst thing about vacations is that they pass us by in the blink of an eye. The best response is to ensure that the memories you make can be celebrated for years to come. Learning how to take great photos with your iPhone will stand you in good stead. Meanwhile, your DSLR shots of famous landmarks and beautiful sunsets can be turned into the best artwork for the home. If the memories of your vacation can add a little warmth to your life on a daily basis, every dollar spent on the trip will feel worthwhile.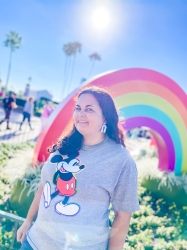 Latest posts by Krystal | Sunny Sweet Days
(see all)