7 Ways to Simplify Your Home
Are you looking to enjoy a simpler and easier to maintain home? If so, take a look at these 7 ways to simplify your home. These tips are easy to follow and implement in your own home, allowing you to enjoy a space that is virtually maintenance free. While I'm not perfect at all of these, I do try to think of ways I could simplify my everyday life.

1. Eliminate what you no longer need. You will be amazed at how much you are holding on to that you no longer need. Take a box of trash bags and go through the entire house. Don't think about the items long, just vow to donate anything you haven't used in the last two months. This will clear away an incredible amount of clutter.
2. Everything needs a place. Grab crates, boxes, and totes to compartmentalize everything. Vow to give everything a place. Label the containers with the items they hold. This is a great way to assign an easy to find spot and make clean up a breeze.
3. Open up your floor plan. An open, airy floor plan is easy to clean. Clear away clutter or small furniture pieces that seem to be blocking the flow of traffic. Only hang onto furniture items that are used and functional. This makes the room flow nicely and makes each room more purposeful.

4. Create a command center. Find a corner that can work as a command center. Hang a family calendar, file folders for mail and bills, and desk trays for each family member to keep materials in. The command center will help you keep track of appointments, due dates, and more, all in one easy to navigate location.
5. Use easy to coordinate colors. Keep your color palette simple. About 3-4 main colors is perfect. This way, you can easily swap items from room to room to switch up the look without buying more stuff. It is also easier on the eyes!
6. Utilize your storage. In drawers, behind doors, and under furniture utilize your storage. Try to use hooks, divided organizers, and over the door organizers to keep things in place and easy to find. This will not only help you to find things easier, but will save you money since you won't be replacing items you already have.
7. Set aside 20 minutes per day to tend to your space. Set aside 20 minutes each day to put items in their designated spaces, quick clean, and eliminate items you are no longer using. This regular maintenance won't take long but really makes a difference in the long run. Need help? Try this cleaning checklist to get started with a routine!

Simplifying your space seems like a job at first, but once you tackle these steps the rest is simple sailing!
Give these tips for simplifying your space a try and see how wonderful it can be!
Need more inspiration? Try reading Organized Simplicity for a detailed look at organizing your home. You might also love these 10 Easy House Cleaning Tips.
Or, try one of these sixteen household organizational tips!
Do you have a tip for staying organized? Is your home decorated with one color scheme?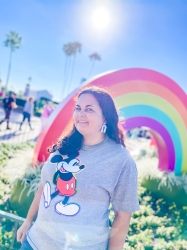 Latest posts by Krystal | Sunny Sweet Days
(see all)