How to Organize Your Kitchen Easily
This post was sponsored by Orchard Supply Company.
It has been a whirlwind of a year already, and it is only January! One of my passions has become a reality as I quickly realized that I could share some of my favorite simple home tips with others. At the recent grand opening of the Orchard Supply Company store in Coral Springs, Florida, I was able to chat with others who are looking for easy solutions to ongoing problems in their home. It all starts with organization!

As part of the grand opening celebration in Coral Springs, I met with a few women who needed help inside their kitchen. Their struggles were similar: lack of time, tools, and inspiration. We walked through the aisles of Orchard Supply Hardware to find everything they needed to revitalize their messy kitchen cabinets, counters, and closets!
How to Organize Your Kitchen
1. Go through your kitchen gadgets. The first tip was to throw away or donate duplicate kitchen tools. For example, maybe you have a griddle, a panini press, and an electric grill that also doubles as a griddle or panini press. That is three appliances for ONE use! Declutter the appliances and gadgets that you have and take inventory of the items that you need.

Some of my favorite gadgets for the kitchen are wooden utensils and functional items like a garlic press, a cheese grater, and a manual can opener. If an item has ONE use (like a quesadilla maker), consider donating it since how often are you really using it?
2. Display only the appliances that you use daily on your counter. Get rid of the counter clutter by hiding or storing gadgets that you don't need. We don't have a toaster on the counter since we rarely toast bread. It's nice to have one, but it is not part of our daily cooking routine so we save counter space by storing it.
3. Use hooks. If you have the room, attach hooks to the ceiling or walls to make pots, pans, and other items more accessible.
4. Consider an island. If you have a kitchen island, you are able to have additional workspace AND storage.

5. Give everything "a spot." Your cleaning supplies and tools should have a spot. Your spices should have a spot. Everything should have a designated area so that you are never searching and know where to put things away.

6. Use shelf liners to make your kitchen drawers cleaner and more organized. I love using liners to add padding for utensils or to keep the space tidy.
7. Take inventory of everything you have. Go through your cabinets and declutter duplicates or find items that you need. Stock up on cleaning supplies and dish soap. Make sure that you have a dish drying rack, fresh sponges, and a caddy to carry supplies from room to room.

If you're ready to make true change in your kitchen space, stop by Orchard Supply Hardware in Coral Springs, Florida to find everything you need. From supplies, gadgets, cleaning tools, and organizational items, keep your kitchen clean and organized in the new year.
How do you keep your kitchen clean and organized?
Home Organizing Tips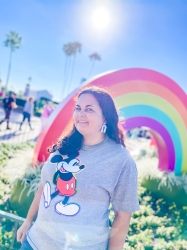 Latest posts by Krystal | Sunny Sweet Days
(see all)