How to Organize Your Garage | Essentials For Lawn Maintenance
We recently made the move back to house life. One of the best parts about that is, having our own backyard. A grassy oasis where our kids can play baseball and dogs can run free. But all that comes with new responsibilities to keep that lawn as inviting space.
If you are trading in apartment life for a house of your own, you will likely need a few essentials for your new yard. Although it might seem pretty evident what you are going to need, it helps if you have a checklist in case the home improvement aisle gets a little intimidating. Once you have your essentials, we are going to show you how to organize them!
Here's what you will need for your new yard if you plan on doing your own yard work:
Lawn mower – Unless you plan on employing a professional service or, at the very least, an entrepreneurial neighborhood teenager, this will be your biggest expenditure. What type of mower you will need will vary depending on the size of your yard. Obviously, a manual push mower isn't practical if you have several acres and a riding tractor isn't needed if you only have a small patch to keep cut.
Weed eater – If you have tree lines or fences, this is a necessity. Even a small electric weed eater will work for most yards.
Edger – a simple line between the sidewalk and lawn makes a world of difference to give your new lawn a professionally manicured look.
Leaf blower – I never realized how useful one of these was until I finally had one.
Shovel – If you have large dogs, you should probably even have two with one of them dedicated to clearing the "minefields" when you want to fully enjoy your new backyard.
Rake – Even if you don't live in a place where autumn is a thing, you might still find yourself in need of one.
Flat broom – You may be tempted to use the blower in every situation, like sweeping out the garage. This is a bad idea.
Gas tank – You're going to need fuel for all your new lawn tools. Surprisingly, a lot of folks forget about this at first.
Trimming shears – Although you might have to leave the major trimming to pros, you are going to be responsible for the basic upkeep of your own shrubbery and small trees.
Once you have the essentials, you will probably need a way to keep them organized in your garage or shed. That's why we have a Rubbermaid® FastTrack® Rail™ Garage System to keep everything from being piled into a corner of our garage.
We purchase the Rubbermaid FastTrack Rail system from Lowe's and it was quick and easy to install. It can be configured to, however, you need to accommodate your tools and equipment. Thanks to adjustable hooks, you can attach and move them anywhere along the rails.
Locking grippers on accessory hooks provide reinforced security when attaching hooks to the rail.
The hooks are available in a variety of sizes and shapes so you can hang everything from shovels and rakes to entire ladders.
Each hook holds up to 50 pounds and each steel rail can hold up to 1750 pounds. It took me about fifteen minutes to get it installed, and it is a welcome addition to our garage! Now, we can truly get organized!
You can find it in the garage organization section at your local Lowe's Home Improvement store or online!
We knew that we would use the hooks to organize all our garage essentials listed above. We needed a place to store brooms since they are usually hiding in the kitchen or end up falling in a pantry. Now everything has a place to stand upright!
Perhaps the best part of this new addition to our garage is how everything is off the floor and can be kept "clean." No longer will dirty brooms, mops, or shovels be on the ground. Everything has its place.
How do you organize your garage?
Organization Tips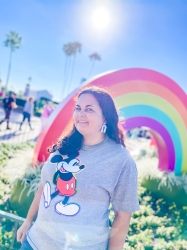 Latest posts by Krystal | Sunny Sweet Days
(see all)