Holiday Breakfast Bar: Gift Exchange Tips
This post has been sponsored by Tyson Foods, Inc. All thoughts and opinions are my own.
Get excited to celebrate the holidays with friends and family by exchanging gifts and hosting a breakfast bar! We love to entertain during the holidays, and I try to find fun ways to make our traditions even better. I usually stock up at Publix because I can find products at a good value and they have everything I need, so I decided to start our breakfast bar with Jimmy Dean® Roll Sausage, Jimmy Dean® Fully Cooked Sausage Patties, Wright® Brand Bacon, and Aidells® Chicken Meatballs.
A personal moment that we share together is the traditional gift exchange during the holidays, but there are so many ways to make this more creative and special for your family. Although Christmas is usually focused on giving and family time together, you can also take a girl's night out to break away from the holiday stress. Hosting a gift exchange with your girlfriends or family members is a wonderful way to remind them you care.
Host a Gift Exchange With Breakfast Bar
First, set up a breakfast buffet bar with all of the essentials. Jimmy Dean Roll Sausage is a family classic, and it is so flavorful with high-quality pork. You can also use Jimmy Dean Fully Cooked Turkey Sausage Patties, which are served in a flash since they are already fully cooked and take just minutes to prepare!
Wright Brand Bacon is hand-selected and hand-trimmed with a thick cut! They crisp perfectly and are perfect for your breakfast bar.
We also set up Aidells Meatballs with Asian flavor that includes ginger, soy, and bits of real pineapple! These are also fully cooked, so you can just heat and serve. Talk about a huge time-saver for your holiday gift exchange!
Find more holiday tips and tricks utilizing all of these great products and more, click HERE!
Gift Exchange Tips
Determine Who To Buy For: Shopping for Christmas can get costly, especially after becoming a parent. You have your kids, spouse, and family to buy gifts for. Usually when it comes to friends, they get the short end of the stick if receiving gifts at all. By coming up with a fun way to celebrate the holidays with your best friends without breaking the bank, you are sure to make more memories than headaches. Decide who is buying for whom. There are two great ways to make this run smoothly.
White Elephant Gift Exchange: Have five girlfriends that want to get together this holiday? Each person buys a generic gift that they know all their friends will love, and you play a simple game to trade gifts at your get-together. You can draw numbers on the day of your gift exchange and pick presents in numerical order or play another festive game to determine which present goes home with each person.
Draw Names: Add each name into a hat and have each person draw once. This way, you are only buying and receiving one gift and not always with the same person. You may draw Susie, although Erin may draw you. No obligation to reciprocate the gesture.
Set a Budget: Setting a budget for gifts is important. Having a spending limit helps everyone know what is expected so they aren't disappointed or feel the need to spend too much. Plus, having a price limit gives you the challenge to see which holiday deal you can find to buy the best gift at a lower cost.
Pick a Theme: A theme makes any party more fun. Setting a theme for your holiday gathering can be just as exciting, maybe even hilarious, as exchanging gifts. There are several Christmas themes to pick from, but some of the best are:
Ugly Christmas Sweater: Each person that attends your holiday gift exchange has to come decked out in attire matching the theme. The Ugly Christmas Sweater theme can cause many laughs and is easy to dress for. You can find vintage sweaters at your local thrift shop. Nowadays with the party theme being so popular, most department stores carry a section for funny holiday sweaters.
Santa and his Elves: Santa can be anything from a little red dress to an actual costume. Maybe even a cute elf?
Flashback to Prom Night: Flashback to Prom Night is exactly that. Adorn your old prom dress or hit up the local thrift shop to find the gaudiest dress possible. Have an old bridesmaid dress you were stuck wearing in the past? It's time to dust it off and head out on the town for your girlfriend's gift exchange.
Once you have figured out who you are buying for, a budget, and your theme, don't forget the meal! Breakfast and brunch are an awesome time to set up a holiday party. Tyson products help make our holiday entertaining easy and convenient. Pick up everything you need at Publix! Everything is easy to find, and we love the regular weekly sales and bright and clean aisles.
Do you host gift exchanges?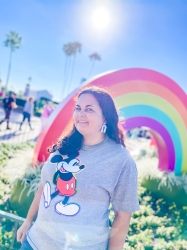 Latest posts by Krystal | Sunny Sweet Days
(see all)