Top 3 Trending Gifts For Kids this Holiday Season
Trends change fast thanks to the pervasive nature of social media, and it seems like kids are joining the platforms at younger and younger ages each year. In fact, nearly a third of TikTok users are between 10 and 19 years old. To catch you up on the hottest and most sought-after trends of the season, we've done a deep dive into the most popular social media platforms to fish out the gifts every kid has on their wishlist this year.
1. Sneaker Gifts: A No-Fail Present Kids Will Love to Open
If you're not on social media or frequenting the local mall, you may not have noticed the rise of the ultra-popular Nike Air Force 1s. Sneakers and shoes have been, and will always be, a topic of conversation and a channel of self-expression. A person's shoes say a lot about who they are.
By shopping sneaker gift ideas curated by retailers, the heavy lifting of trying to find what's cool and trendy right now is done. You can peruse only the most popular styles of any top shoe brand in one place. All you have to do is pick the style that best fits the kid on your list, and you're the new favorite relative.
2. A Present to Encourage Their New Hobbies
The question probably isn't whether the child on your shopping list picked up a new hobby over the past year, but which hobby they chose. A recent study showed that 72% of Gen Zers were inspired by the hobbies of the friends and influencers they follow online and have picked up a new one themselves. With endless sources of inspiration and guidance to glean on the internet, there's no telling what new talent they've acquired. 
If you don't know what that hobby is, ask someone who's close to them. Better yet, ask them yourself. Everyone loves to talk about their latest obsession. Gifting them the tools they need to nourish and grow their new interest is a fool-proof gift that will not only show them that you really know them but will also ensure your gift doesn't get banished to the re-gift pile.
3. Quality Time: The Perfect Gift for Kids
As influential as social media is on kids' free time and interests, ultimately, the holidays are about celebrating the people we love. Giving kids your undivided attention for a fun, quality-time outing is a super easy and fun gift you'll both enjoy. They'll likely post about it on their social media profiles to share and celebrate their time with you.
As a parent, aunt, or uncle, or grandparent, kids of any age will relish the time they get with you. Whether that looks like a stuffed animal Disney character holding tickets to Disneyland or a book about their favorite animal with an invitation to go meet them in real life at the local zoo, experiences can be truly memorable gifts.
The Ultimate Gift for Kids
Whether you're a big fan of social media or not, most kids are on it. For the bad rap it gets, there's a lot of good that can come from social platforms, too. In this case, it's going to help you to find and give the ultimate holiday presents that the kids in your life are sure to love.
Whether you stick with a functional and fashionable sneaker gift, put on your sleuthing hat and get to know their newest interests a little better, or carve out some time to spend with them that tears them away from their screen for a few hours, these top trending kids gifts of 2022 are sure to delight every young person on your list.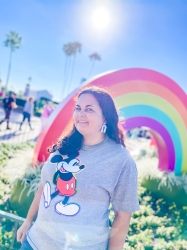 Latest posts by Krystal | Sunny Sweet Days
(see all)