Holiday Wine Pairing Ideas
It's our turn in the rotation to host the family Christmas dinner and we wanted to make it memorable. Food is always the centerpiece of these events and our families tend to eschew the traditional holiday fare in favor of dishes that reflect our deep Florida heritage. Since these dishes run the gamut from seafood to roasts we've decided to highlight the unique flavors of each one by pairing it with its own individual wine.
We'll be using Wente Wines to help us with our culinary exploration. Founded in 1883, Wente Winery is the country's oldest, continuously operated family-owned winery based in California. For five generations they have built a reputation for fine vintages and have been dubbed the "First Family of Chardonnay." Nearly 80 percent of all chardonnay grapes grown in California are derived from their clone's strain. Their wide portfolio of wines offers something for just about every dish we are planning. We'll be using their six varieties of their "Estate Grown" line of wines for each of our six courses. Like I said, food is a major focus of our celebration so it becomes an all day affair.
Here is our planned menu for each course and what Wente wine we will pair for it. Even if you aren't planning on making a massive feast for a large group this holidays, we hope that this list inspires you to try out your own pairings to help make your holiday meal memorable and delicious.
Course No. 1: Grilled Oyster Rockafellow
Grilled oysters are a big tradition in our family and one of our preferred methods is to grill them with baby spinach and asiago cheese. We start these early since they are a perfect finger food to enjoy while you are socializing and catching up with family.
Wine Pairing: Louis Mel Sauvignon Blanc
This white is perfectly balanced and its light and sweet finish make it a good choice to start things off. If you really want to kick it up add about a 1/2 tsp. of wine to each oyster while it cooks.
Course No. 2: Lamb Kabobs
This pre-meal appetizer is one of the wife's favorites so we're incorporating into our meal for the entire family. Chunks of tender marinated lamb, cooked on a skewer with peppers and mushrooms. Finish off the kabob with a hunk of fresh mozzarella.
Wine Pairing: Beyer Ranch Zinfandel
This is a good dish to bring out our first red. It has deep "jammy fruit flavors" to complement the slightly gamey features of the lamb. This is another dish where we'll be using the wine in the preparation process by adding a few tablespoons into our marinade.
Course No. 3: Stone Crab Claws
It's a South Florida thing. This delicacy is traditionally served cold with a honey mustard remoulade sauce. It has become the highlight for all of our holiday gatherings.
Wine Pairing: Morning Fog Chardonnay
It's only right to pair the dish that South Florida is known for with the white that Wente is known for. The "beautiful and lingering minerality" of the Chardonnay makes a beautiful pairing with the salty sweetness of the crab claws.
Course No. 4: Baby Bello Salad
I'm a big fan of portabello mushrooms so our salad will feature sliced baby portabellos on a bed of baby spring mix, dressed with vinaigrette and fresh fontinella cheese.
Wine Pairing: Sandstone Merlot
This will be the first course that's meant to be eaten at the dinner table so we will transition into the heartier wine selections. It is blended with their Petite Sirah then aged for another 6-12 months to create distinct aromatics and structure.
Course No. 5: Stuffed Roast with Grilled Potatoes
We rarely go with standard holiday table fare like ham or turkey for Christmas dinner. Instead, this year we will be slow-smoking a sirloin roast stuffed with spinach, garlic and a variety of cheese.
Wine Pairing: Southern Hills Cabernet Sauvignon
The bold flavors of the rare roast demand a bold flavored red and this cab is ideal for that. This wine is my personal favorite for its rich flavor with an appealing structure.
Course No. 6: Key Lime Pie
This is another Florida favorite and I make a mean pie using freshly squeezed key limes. No meal is complete with a nice big slice of pie.
Wine Pairing: Riverbank Riesling
The fruit-forward sweetness of the wine helps temper the natural tartness of the limes. It makes for a great dessert wine with its "inherently beautiful floral and tropical notes."
Are you hosting your family this holiday season? What's on your menu and which wine do you think would make a memorable pairing?
Wine Party Ideas
Christmas Decor Guide
Score your free holiday decor guide.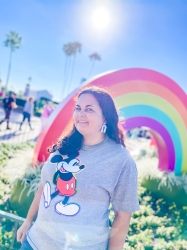 Latest posts by Krystal | Sunny Sweet Days
(see all)