6 'Outside The Box' Gift Ideas For People Who Are Hard To Buy For
Finding that perfect gift for someone who's particularly tricky to shop for is perhaps one of the best feelings for any avid gift-giver. Naturally, this feeling may come after days, weeks, or perhaps even months of browsing through retail stores and scrolling through online shops. Your gift-giving epiphany may have even come at an unexpected time, like an idle thought in the shower or on your way to work.
If you're still waiting for that perfect gift idea, however, we're here to help provide a little guidance. Read on for seven of our great 'outside the box' gift ideas for gift recipients who are consistently hard to buy for.
1. A storm glass or other fun desk accessories
One of the best gifts you could give someone who doesn't particularly want anything is an item that's still sure to be enriching for them. That's why curious trinkets Fitzroy storm glasses can be found in many dedicated gift shops. These scientific oddities can accurately predict the weather by responding to fluctuations in atmospheric pressure. They work by using a chemical mixture that produces crystals during high-pressure periods that may lead to rain, heavy winds, thunderstorms, or even snowstorms.
If your gift recipient may not be as enthused about meteorology or novelty barometers, there are a number of other sciencey trinkets or desk toys you could consider getting them. You can never go wrong with a classic Newton's cradle, or a tiny plasma ball. We just thought storm glasses were more 'outside the box'!
2. A handmade hamper filled with all their favourite treats
Gift hampers are a universally adored gift idea, because they're actually dozens of gifts disguised as one. Think about it! When you open a gift hamper for the first time, you're usually met with a variety of other bags and boxes of sweet treats that are just asking to be opened and enjoyed. For this reason, gift hampers also tend to exist in a midpoint between being a materialistic and experiential gift. Yes, you're gifting a physical item (or ten), but you could argue that the act of digging through and enjoying a lovingly curated gift hamper is an experience in itself.
You can take your gift hamper gift idea to the next level by making your own gift hamper rather than buying a hamper from a gift shop. By making your own hamper, you can retain total control over what's included, meaning that you can feel free to fill the hamper with all your recipient's favourite snacks and perhaps even a pair of socks or some other small gift ideas that are perfectly suited to their tastes.
3. A thoughtfully curated scrapbook
As we softly mentioned in our exploration of gift hampers, the best kinds of gifts you can give for people who are a little difficult to buy for, tend to be gifts that you simply can't buy. Many gift recipients who generally don't want material gifts are often more inclined to prefer gifts that are given from the heart. They want their gifts to be symbols of their connection with you.
Amongst the best gift ideas for honouring a relationship, you can find items such as framed photographs, sentimental keepsakes or mementos, and of course, handmade scrapbooks. Putting time and care into a perfectly personalised scrapbook that delves into all the highlights of your connection with your gift recipient is always sure to make for a great gift, not just because of the finished product itself but also because of the memories that will be forever linked and strengthened by your scrapbook. This isn't just the best way to honour shared memories, but it could very well also be the best way to remember them together!
4. A super soft premium plushie
Plushies are back in a big way, and we couldn't be happier. These fluffy, adorable staples of our childhood toy chests make for endlessly heartwarming gifts, so you should always feel encouraged to gift some premium plushies wherever and whenever you feel they will be most appreciated.
We're inclined to recommend Jellycat plushies, as these are definitively the softest, quirkiest, most lovingly designed and produced plush toys that exist on the planet to this day. Jellycat's range of plushies include some truly brilliant characters like vivacious vegetable plush toys, terrifically toothy animals, and even plush potted plants to gift for your significant other on Valentine's Day or perhaps even as housewarming gifts.
5. Anything personalised or customisable
As we've mentioned, oftentimes people who are hard to buy for don't necessarily want any generic gifts. If you know for a fact that your intended recipient isn't likely to appreciate anything that feels like an obligatory gift, then the magic of personalised or perhaps even customisable gifts can play to your advantage here.
As organizing personalised gifts require a level of thoughtfulness and attention, giving gifts of this nature will never come off as an obligatory or courteous measure, but instead as a genuine delight for you as a gift-giver. Personalised gifts are always given (and received) with zeal, especially if the gift item that's been personalised also has some significance to your recipient. For instance, a writer may love to receive a personalised pen. An avid reader would probably love a premium leather bookmark that's been personalised to bear their name and favourite literary hero. 
There are a variety of custom laser cutting or engraving services out there if you're hoping to source your own gift item for personalisation. Otherwise, it's also common for gift stores to offer gift personalisation services for some of their items. Simply shop around to find the perfect item to personalise, and then get to work presenting your stellar present idea.
6. An experience gift
Last but not least, one of the best gift ideas you could have when finding something for someone that's difficult to shop for, is simply gifting an experience over a material item. Experiential gifts are a perfect way of ensuring that your gift idea is still enriching without being any kind of physical burden, making it a superb gift idea if your gift recipient happens to maintain a minimalist lifestyle.
Potential gift ideas for gifting an experience include movie or concert tickets, access to a class (i.e. a cooking class, arts and crafts class, etc.), a nice dinner out, or perhaps even a weekend away or any other kind of trip idea that will allow your gift recipient to step out of the humdrum of everyday life for a little while. You may even decide to join in on the experience with them, using your gift as an opportunity to make new memories that can in turn, strengthen your relationship.
~
Finding those perfect gifts for someone who's tricky to gift for doesn't have to take days or perhaps even weeks of planning and hunting. In truth, sometimes the best gift ideas are staring you right in the face. Sometimes they may even be found in lists like these, so a little research and critical thinking is all you need to get that gift-giving epiphany springing to mind.
So we'll leave you with this. We hope that the information provided here has been helpful for you in your latest gift-giving journey. If you leave here with inklings that are budding into ideas, then we'll have done our job!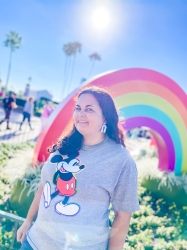 Latest posts by Krystal | Sunny Sweet Days
(see all)