Stocking Stuffer Ideas: Gift Guide For Girls
Need gift ideas for girls ages seven to ten? This is a tough age to buy for, but there are fun and creative ideas for stocking stuffers or toys that are age appropriate. I like to encourage imaginative play (to balance out all that time spent on a tablet!), so hopefully these ideas can inspire time away from the screens.
Gift Ideas For Girls
L.O.L Surprise! Bigger Surprise with 60+ Surprises
If there is one toy most 7 to 10-year-old girls are obsessed with these days, it is L.O.L dolls. These cute little dolls are highly collectable and provide hours of fun. However, buying the dolls individually can prove to be really expensive. That is where gift sets, such as this L.O.L Surprise kit, come in useful.
It comes with two limited edition Surprise L.O.L dolls, each featuring seven great surprises. There is also a Surprise limited edition L.O.L pet included which also comes with seven different surprises. Thatís not all either. In fact, the entire set comes with over 60 surprises that sheís sure to love.
The adorable Lili Gleemerz doll has been named one of the top 100 toys & games on Amazon for 2018! Featuring large puppy-dog style eyes and a cute bushy tail, this interactive toy is sure to become your child's best friend.
It has more than 100 different reactions for her to discover. Just some of them include purring, growling and saying funny phrases. They can even play games with their child companion and put on dazzling light-up shows.
Happy Yummies Worlds Best Tasting Gourmet Gummies Super Bear Assortment
She will love finding this tucked inside her stocking. Happy Yummies Worlds Best Tasting Gourmet Gummies Super Bear Assortment – The Best Tasting Gummies packed in an exclusive 14 oz bear package makes a great gift for someone special! Includes 14 flavors of gummy bears plus two extra special flavors. MSRP $9.50.
Which flavor would be your favorite? Try strawberry, watermelon, lemon, and more!
Fingerlings HUGS
Cuddly toys are always a winner with young girls and there are lots of different ones to choose from. However, if you're looking for the best cuddly toy on the market, this Fingerlings HUGS Bella toy is highly recommended.
This isn't just your average cuddly toy, itís interactive. Each of the HUGS characters are designed with maximum fun and entertainment in mind. Their super-sized reactions make every minute fun, from burping and tooting to laughing hysterically, your child is sure to love this adorable companion.
Friendship Bracelet Maker
Create stylish friendship bracelets in a matter of minutes. Each kit can create up to 10 bracelets and it comes with a stylish carry case to store everything in. With an incredible 88 spools of thread included, the design options are practically endless. Your child and their friend will be able to create distinctive, personalized bracelets not found anywhere else.
PIKMI POPS Giant Flips
If she loves all things cute and cuddly, she's going to love Cinnamon the Bunny! Part of the popular PIKMI POPS Giant Flips collection, this large plush toy is perfect for cuddling.
However, it doesn't just feature Cinnamon the Bunny. Your child will also find eight different surprise items inside. One or two of these will be exclusive, scented medium PIKMI POPS. Unlike the larger toy, these can be carried around everywhere.
There is something on this list to suit every little girl.
Gift Ideas For Kids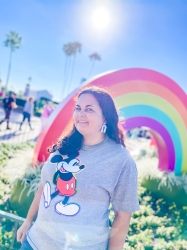 Latest posts by Krystal | Sunny Sweet Days
(see all)