Educational Goals With Amazon Echo
This post was sponsored by Amazon as part of an Ambassador Activation for Influence Central and all opinions expressed in my post are my own.
We are not always the best at sticking to routines. We try, but certain things come up in the schedule and we lose our progress. Thanks to technology I can now get back on track with our schedule. It's not just calendars and reminders. It's every aspect of our day from school, play, and relaxation. When we received our Echo Dot Kids Edition, we instantly fell in love with how Alexa can offer a fun and educational experience for the children in your home. With FreeTime on Alexa, kids and parents can share in learning and having fun together. Plus, kids can ask Alexa questions about science, math, spelling, and more. Alexa can get smarter as time passes (and so will your curious little one!).
So, just how exactly can Alexa help us stick to routines and create educational habits? We want a daily reading habit and Alexa can help. There are over 1,000 Audible books available through Amazon FreeTime on Alexa, and they have helped my son find a new interest in reading and comprehension. With a new thirty-minute reading routine with Alexa, we can listen to books together with Audible and listen to stories via Amazon Storytime. By planning our reading times, we can make sure that we hit this daily goal together. We also have noticed that our son is gaining more confidence to reado n his own too.
Besides reading more often (especially this March since it is National Reading Month!), we look to Alexa to upgrade our home habits. By using Alexa and our voices, we can set timers, reminders, and more to help our day run smoothly. We don't have to worry about overcooking our dinner or missing school drop-off since I have a daily reminder to head to school so that I don't leave a minute too late. As for my son, the timers help us with chores and getting ready in the morning. I find comfort in letting him have more independence since I know that we have timers to help him know how much time he has to get ready for school.
To help you set your own educational and home goals for your family, I created a simple checklist that you can review daily to stay on track. While your goals may be different based on the age of your children, I think that we can all agree that every day we need read, do homework, and create a plan in our planner. Without a plan, we can be lost no matter what our age is.
This printable can help you stay on track at home and you can use Alexa to help you every step of the way. Set timers for home, reminders for project due dates, listen to stories, and don't forget about a bedtime reminder! I also love the peace of mind that I have with the Parent Dashboard. I can monitor what the last songs he was listening to, how long he was spending on certain activities (including the Audible reading activities), and more! Learn and discover with Amazon!

Educational Tips for Kids
What habits and educational routines can Alexa help you start?
Activities For Kids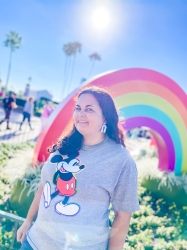 Latest posts by Krystal | Sunny Sweet Days
(see all)