What Is A Bullet Journal?
Bullet Journaling has now become a popular trend for the planner communities online. With the back to school season coming soon (can you believe it?!), it is good time to start a new system that works for you and your family. If you make a lot of to do lists and checklists, you might love this!
I know that I struggle with having way too many things to remember on a daily basis, and I need to brain dump daily! Since I like to take a notebook and just list out everything that is on my mind, I have discovered that bullet journaling was made for me! If you have a lot of different daily tasks or appointments, bullet journaling was made for you. Manage a team at work? This could be a way to streamline your processes. Manage your household? Your daily tasks and chores now have a place to go! You will be more productive and less stressed if you write it down and stop trying to remember all of the "stuff" in your brain.

You can create your bullet journal in any way that you like, however, they typically have three parts.
What is Bullet Journaling?
The first has an index and key. Bullet journalers usually use the first two pages of the notebook to create these important pages.
The second part can be a monthly log or calendar followed by daily entries.
The last part of a bullet journal is where you store all your lists. From groceries, favorite books, podcasts that you listen to, project to do lists, etc.
If you're ready to try bullet journaling, set aside two pages in the front to create your index. You will then write down items as they come up throughout your day.

At the beginning of the month, set up a monthly page. This is where you can write down appointments, anniversaries, or other important events. Some bullet journals include a list of 1 through 30 (like the one I made above!) to keep track while others prefer to actually draw a calendar.
Once you have created a monthly page, go to the next blank page. Write down today's date and start writing down what is on your mind. This can include your appointments and meetings or quick notes and ideas. Your key will be crucial to this step! I have learned that there are two common ways to do your key (though there are many variations as well!).
Bullet Journal Key
⃞ Task
■ Completed Task
⍈ Migrated Task
⃝ Appointment
⬤ Completed Appointment
⟴ Migrated Appointment
–  Notes
Bullet Journal Key Variation
ᐧ (Dot) Task
X Completed Task
> Migrated Task
Any task on your list can be crossed out if it is on longer needed, of course.

Pick the key system that seems to make the most sense for you and start writing down the things you need to keep track of. One way to think of it is as the ultimate ongoing to-do list.
When you day is ending, take a look at your list. What has been completed? What has not been finished? If there is something that hasn't been completed, add it to tomorrow's list. Bullet journaling is great, because it can be so flexible and functional!
Have you tried bullet journaling?
Want to find out if bullet journaling is for you? Read the next post in this series!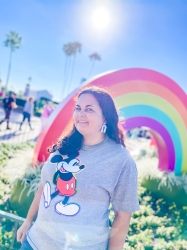 Latest posts by Krystal | Sunny Sweet Days
(see all)