How to Create a Goals Board
This post was originally posted in July 2013.
In case you haven't noticed, I have been getting a bit more serious about setting and tracking my goals. I spent much of this year getting by, and I knew it was time for a change. I had to get it in gear. I spent the past five weeks attending a workshop through Simplify 101. The full title is "How to Achieve Your Goals and Create a Life You Love." It is run by a professional organizer who has made her living hosting workshops, writing books, and encouraging others to lead a simpler life. And, since that is my new goal (and blog theme!), I knew that I had to try this workshop out.
How to Create a Goals Board: Vision Board DIY
I had never taken a workshop online before for "fun." Most of my college courses were online so I knew the drill: print out the lessons, communicate via forums, and work independently. I really enjoyed the class format and the material we covered.
Obviously, the main point of the class was to set goals and learn strategies for tracking them. One of the first assignments we were given was to create a goals board. It didn't matter if it was virtually (through Pinterest) or an actual poster board, but displaying it where you would see it often is supposed to help remind you of what you are working on. What kind of life you want to live.
I hung corkboard in my office (which I finally am almost done organizing and unpacking after all these months!), and I started pinning up images from my favorite magazines that remind me of the goals I have set, the people and places I love, and general lifestyle things that make me happy.
Quotes, Champagne, Family, Crafts to Do
Cocktails, colorful pillows, photographs
I also finally have my desk cleaned off, a new laptop, and an area in the office that is mine. I previously had been using my husband's workspace and it was time for a change.So, what are my goals? Besides setting smaller blog goals every day, I have some lofty dreams of accomplishing some of the things below. We set foreground goals (things that are more important) and background goals (things that are in the background, not as important, but something to also still work on). Our instructor also taught us the "proper" way to write out our goals. By writing them as statements with dates, we are encouraging ourselves to actually finish them.
Foreground Goals:
1. I am energized by walking three times a week and healthier by drinking 64 ounces of water today and every day through Labor Day.
2. It is August 1, 2013. I am so proud of my productivity level now that my first ebook was published.
Background Goals:
3. I enthusiastically meal plann today and every other Sunday through the rest of the year.
4. It is August 1, 2013. I am motivated creatively now that I purchased a video camera with money I have saved.
5. It is Labor Day. I am so happy to have launched a vlog series on my blog.
6. It is August 24, 2013. I am so joyful now that I have hosted my son's first birthday party.
7. I am motivated to eat low carb and more paleo recipes today and every day through Labor Day.
8. It is Labor Day. I am so excited and feeling so accomplished now that my business is an LLC.
I have a lot of WORK to do if I intend on accomplishing these items by the dates specified. I mean, it's already July 12th! My August 1st deadlines seem like they are creeping up on me just a bit too quickly.
I would love to know how you set goals, what inspires you to stay motivated, and where do you blog? Did you carve out a space like I just did?
Planning Tips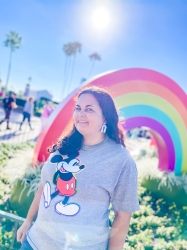 Latest posts by Krystal | Sunny Sweet Days
(see all)