How To Be More Active With Your Kids This Summer
When children are at school they become accustomed to constant stimulation, whether it's academic learning or sporting activities. When the summer holidays begin, they initially enjoy the opportunity to rest and recuperate. After a few days, however, children inevitably become bored and in need of something to do. 
It may be that you're dreading the school holidays, and are wondering how to keep your kids occupied. Whilst it can be tempting to leave them on their Ipads and computers for hours, it's better to do something active with them. Fortunately, there are many fun activities that all the family can enjoy, from visiting swimming pools to taking nature walks. If you're in need of a few suggestions, this article could be exactly what you've been looking for.
Use The Internet As A Resource
You may be wondering how some parents always seem to know what's going on in your area, whether it's a funfair or a holiday club. The answer is likely to be that they've been surfing the web for local events. Because these things are designed to make money, they will frequently be scheduled to occur during the school holiday when kids are in need of some entertainment.
If your family members remain active, they will be more likely to stay well. When it comes to having an active lifestyle some specialist websites specifically focus on family health. They may feature articles on how to get your kids to clean their teeth, or how to choose the best probiotic supplements. They may discuss whether or not dirt is good for kids, and whether premature babies generate more stress for the dads than the mums.
Limit Your Kids' Screen Time
There's no denying that it's more challenging and tiring being actively involved with your kids than letting them play computer games for hours. Having said that, it can be bad for their social skill development, eyesight and posture if they remain glued to a screen all the time. Children under the age of five should watch no more than an hour of television a day, and older kids no more than double that.
Children need to go outdoors daily to let off steam. When their activities are over, they will be more settled and content when they get home. If they stay indoors, however, their pent-up energy is more likely to manifest as mischief and restlessness. It's a sad reflection on modern society that many parents spend hours staring at their smartphones while their kids never learn to appreciate sports and nature. 
Organize Family Outings
If all the family is involved in the decision-making, these days are more likely to go well. You might choose to go out with roller-blades or have a picnic at a country park.
Perhaps you can find a trail for hiking or biking. Some companies let you hire mountain bikes if you don't own them. Always check the weather beforehand to make sure it's not a wash-out, but remember that a little rain never hurt anyone, and it can sometimes be part of the adventure.
Arrange Play Dates
Sometimes you have to fight fire with fire, and you might have a less demanding day if you invite another child round. If they get on well they will entertain themselves and give you a bit of a break. In turn, the other child's parents may reciprocate and release you up to some free time alone.
If you all go to an adventure park, the children can enjoy the facilities together. If the other person's parent comes along too, you can some adult conversation too. Alternatively, why not ask to borrow someone's dog for a day? You could take it out for a walk, which both your child and the pet would enjoy!
Make Your Garden Fun
If you invest in a skipping rope or a swing, it could provide hours of family fun. Basketball hoops can often be installed in yards or gardens, and they can be great for playing games and using up energy.
If you don't own a swimming pool, why not buy a paddling pool or one that's a little bigger? The inflatable versions often come with electric pumps, and they can be put away when they're not needed. Balloon fights can be fun, too. Simply fill them with water and watch the action. Make sure the kids won't come to any harm slipping on the grass or concrete, however.
Focus On Nature
If you are a keen gardener, why not provide a specific area that they can tend? There could be borders to maintain, and seeds to plant. It's surprising how much joy children can have when the shoots first appear, and when they eventually flower. You may also sow the seeds (pardon the pun) of a lifetime hobby in the process.
Nature walks can be informative for the mind and good for exercise. You could bring a bird book and some binoculars, or a field guide to help them identify butterflies, insects and caterpillars. Once again you may instill a love of nature and introduce them to a future pastime.
Consider Classes And Camps
Many children enjoy attending summer dance classes or joining sports' teams. Whilst they inevitably cost money, they can help fill up the holidays. If your child is dancing in a show or playing in a football competition, they will be delighted to see you attend. In turn, you can take photos and preserve happy memories.
There may be a youth camp your child could attend for a week. They would be able to make friends with kids their own age, and if some of their schoolmates are also going, better still.
Hopefully, you feel more inspired and positive about the forthcoming holidays. Whilst it can feel like you do all the giving during the early years of parenting, there is always a payback. If you do some of these outdoor activities you'll have photos and memories to look back on. More importantly, your child will enjoy their free time and grow as a person in the process.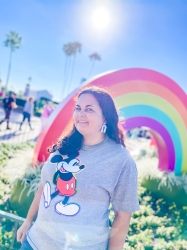 Latest posts by Krystal | Sunny Sweet Days
(see all)