Must Have Dollar Christmas Baking Supplies
The arrival of the holidays means it is time to start baking. The good news is that your local dollar store can help you bake all of your favorite recipes for less. Take a look below at these must have holiday baking supplies so you can enjoy hours of baking without breaking the bank or your budget! This list can also help you create your wedding registry so you can stock your kitchen or it's a great starting place for a new homeowner who might need new kitchen gear!

1. Wax paper. Wax paper from Dollar Tree is always a great deal. At your local grocer, you will pay at least $3 a roll, but at Dollar Tree, you won't spend more than a buck for quality wax paper.
2. Tin foil. Tin foil is perfect for lining your pans and cookie trays. You will pay $3 and up at your local grocer but again just $1 at Dollar Tree. Tin foil is perfect for protecting pans and keeping your baked goods fresh.
3. Food storage containers. Want to keep those cookies and brownies in an air tight container when done? Dollar Tree has all sorts of sturdy plastic ware for just a $1 a package, and some packages have as many as 3 pieces in them. Choose from all sorts of sizes.
4. Baking sheets. Dollar Tree carries muffin tins, pie tins, baking sheets, and all sorts of other metal bakeware products. This is a great way to replace those old and dingy plans and get something fresh and new for your holiday baking.
Christmas Tree Mini Cupcakes
5. Baking mixes. The baking mixes at Dollar Tree are often name brand and actually quite tasty. Choose from muffin mix, bread mix, cupcake and cake mix as well as brownie mix. You will even find frosting to choose from should you decide you need some.
6. Food coloring. If you love coloring and tinting your own frosting, you will want to snag a package at Dollar Tree. Purchased anywhere else it will cost you $3 and up a box. At Dollar Tree, just a buck does the trick. It is a cheap way to get all sorts of color varieties out of one can of frosting.
7. Kitchen linens. Head to Dollar Tree for all of your kitchen linen needs. Find oven mitts, towels, hot plates, and other kitchen linens for just a buck a piece. These can always come in hand when baking and even with the clean up after.
8. Garlic press. If you're lucky, your store might have a garlic press! Grab one just in case. You can also use it in a sensory bin for toddlers or with play dough if you decide not to cook with it. 😉
9. Rolling pin. I sometimes find these in my Target's One Spot (now known as Bullseye's Playground!). It's always handy to have one (or two if you have a little baker to help you in the kitchen).
10. Spoons and spatulas. Wooden or plastic spoons, spatulas, or even frosting knives can be found for cheap too. I usually buy a couple that I don't mind if I mess up during the holiday season and have to toss.
11. Measuring cups. Yes please! I usually prefer the measuring cups as opposed to spoons, but I'll take any.
12. Sprinkles. Red, green, blue, and glitter sprinkles are always on my holiday baking list. Look for these in small batches for a buck.
13. Sugar. They have small bags, and I usually get one or two just in case.
14. Vegetable oil. I can find small bottles of these for a $1, and I usually don't need much to get through the season.
15. Olive oil. Sometimes I buy a few of the $1 bottles for reserve. I go through olive oil like CRAZY, and it can be expensive.
16. Paper straws. These can add a fun touch to your holiday party or you can use them as cupcake decor.
17. Cookie cutters. Can never have enough of these! You can cook with them or turn them into Christmas tree ornaments or even candles. The ideas on Pinterest are amazing!
18. Cellophane Christmas bags. Send your guests home with holiday cookies wrapped in these bags with a bit of twine.
19. Cooling racks. Sometimes I luck out and find these for a $1! I use them year-round.
20. Hot Cocoa mix. You can make hot cocoa with these, yes, OR you can use it as a fun ingredient for cookies, brownies, or holiday cakes.
White Chocolate Peppermint Cookies
Are you ready to whip up some holiday kitchen magic? Don't do a thing before heading to grab these cheap baking essentials.
What are your holiday baking essentials? Try this Egg Nog or one of these Cranberry Holiday Recipes. You will also love this Host a Cookie Decorating Party idea!
Christmas Decor Guide
Score your free holiday decor guide.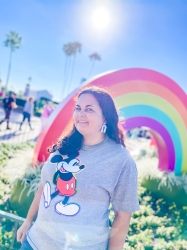 Latest posts by Krystal | Sunny Sweet Days
(see all)