Trending Countertops You'll Want Right Now
When thinking of your kitchen, the countertop is an essential component of it. It's where all the action, spils, messes and interaction happens but more than that, it's really a huge foundation of decor within the space. If you're thinking of renovating your kitchen to something a bit more modern and up to date, working on your countertops is a great place to start. It really can be the tone and feel of your space so you can imagine it's importance within your decor too.

With this being such a popular item, it really does matter what type of finish, material and design you choose for this space. There are some big trends that this year has to offer to help give you some ideas of what you may be thinking of your own kitchen. These specific trends do rely on heavy color and some out of the box designs but you'll know what you like and what you don't when you read it.
Countertops With Details – When thinking of your countertops, some are gravitated to more simple, polished looks while others want a bit more character to add some contrast in their kitchen. Thankfully with the help of technology, there are a lot of creative solutions to help bring your design and ideas to life. Countertops offer a wide variety of patterns so stop thinking of round particulates of countertops and look to more realistic veining within the materials. An idea of this would be picking out quartz and having to resemble slabs of natural stone like marble or granite at a better price. This involves creating veins in interesting patterns swirled into the slabs and can boost your personality in your kitchen.
Colors  – Similar to small details within the stone itself, adding a pop of color on your countertops is exciting too! Recently a company called Premier Surfaces (with showrooms all over the United States ) offer their cutting edge quartz countertop design called Cambria. The Cambria Countertops choices give you a completely different idea of what you might be thinking of a wow factor within this space including Brittanicca and Summerhill. The Brittanicca makes a huge statement with a color that mimics the trending marble and perfect for a large kitchen island. It's very versatile and can go with any style and dark color cabinet color. 
Bold Backsplash –  Remember that subway tile trend? Well, it's still going strong but no some people are wanting to use larger ones or even patterned ones to give a fun sense of dimension in their kitchen. Some homeowners are even thinking of bold color choice for a pop of color and can allow you to be more creative with your design. Large backsplash tiles are trending as well instead of having smaller ones. They help cover the portion of the wall more and look great with stainless steel, glass, quartz or wood counters. When it comes to decorating the space, tile backsplashes are a huge choice to go bold, big or go home with! 
Oversized Sinks – Gone are the days of small sinks for your dishes. Oversized sinks work perfectly with an oversized fridge too! As your kitchen area continues to expand in area and accessibility, it only makes sense to get the appliances that fit that space as well. Modern style sinks are also popular but farmhouse sinks tend to be extremely trendy and functional right now. You can never go wrong with an oversized sink for dishes, flowers and all the quick messes that tend to happen when our kids get into the paint drawer unexpectedly! 
Now that you've read a few of the trending countertops and ideas to fill your kitchen space, what are you thinking you want to start with first? Finding some fun patterns for a new backsplash to play around with? What about finally updating that kitchen sink to the large farmhouse you've dreamed of? Whatever your choice or ideas, talk to an expert to really help plan and figure out what will work best in your kitchen as well as your budget! Again the friendly staff at Premier Surfaces are more than happy to help answer any concerns you have and with showrooms all across the United States, you'll find one that will help bring your vision to life. Share in the comments below what you'll be starting with or planning on starting on! I can't wait to hear!
home decor tips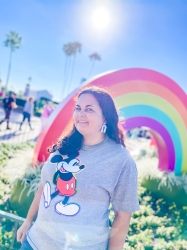 Latest posts by Krystal | Sunny Sweet Days
(see all)