Of All Music Video Locations, Miami is Irresistible
With its stunning beaches and modern skylines, Florida was practically made for music video locations – Miami in particular repeatedly provides the backdrop. If you are looking for the best resorts in Florida, consider staying with CLC World Resorts & Hotels, who operate two award-winning resorts in the theme park capital of Orlando.
For each of the following music artists, Florida proved the perfect location:
Will Smith: Miami
In this high-energy 1998 hit, Will Smith gets on a Miami-bound plane, drives around in a convertible, dances on South Beach and takes a speedboat to an outdoor club, where there is a big dance and salsa routine. Fun fact – while not known as a music artist, Florida-born actress Eva Mendes has a cameo, mouthing the refrain 'Bienvenidos a Miami' in the song's chorus.
Cardi B, Bad Bunny and J Balvin: I Like It
This chart-topping 2018 Latin trap song and its playful video features rapper Cardi B listing all the things she likes: ' I like dollars, I like diamonds, I like stunning, I like shining,' as she dances around a Latin neighborhood in a variety of colorful costumes – it's humorous and cheerful, with much of the action taking place in a Little Havana night club.
Jennifer Lopez: Love Don't Cost A Thing
We find Jennifer Lopez in a stunning sea-view villa, frustrated that her boyfriend has sent her a gold bracelet instead of seeing her. Of all the music video locations, Miami provides the perfect setting, as she climbs into her convertible and drives to Crandon Park, dispensing with gifts he's given her along the way. There's a lively dance routine on a Miami beach and lots of frolicking in the waves before she finally takes the shirt off her own back, claiming her 'Love don't cost a thing.'
Arcade Fire: Signs of Life
For the 2017 video by these Canadian indie music artists, Florida provides an action-packed background. In it, real-life marrieds Win Butler and Régine Chassagne play special agents on an X-Files-meets-CSI style adventure, which has them driving through darkened Miami streets and on an airboat gliding through the Everglades. There, they find a strange laboratory full of mysterious moving corals – signs of life, perhaps. After fighting off an assailant, they escape by boat as odd lights dart above them in the sky.
George Michael: Careless Whisper
Of all the music video locations, Miami, and in particular Coconut Grove and Watson Island, were chosen to match the light tropical vibe of this classic 1984 hit. In it, George Michael parties with a beautiful woman on a yacht and in his hotel room, where his fiancée catches them and storms off onto a seaplane. During the saxophone solo, George stares out moodily from the balcony of his Grove Towers penthouse across a stunning Miami vista.
For so many music artists, Florida holds a vibrant, tropical appeal, and when it comes to music video locations, Miami has proven irresistible to some of the biggest names in music. Why not follow in their footsteps and visit yourself?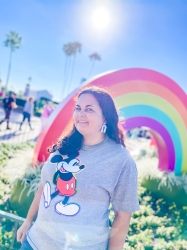 Latest posts by Krystal | Sunny Sweet Days
(see all)