8 Noteworthy New Year's Marketing Ideas
It takes time to come up with advertising and marketing for the New Year and make something interesting. Therefore, it is better to start at least in the fall.
However, in the second half of December, there is a chance to please customers with Christmas gifs and New Year's offers and, in return, get sales growth. With graphic editors you could easily convert Christmas video to gif.
New Year's decoration
There are several options to decorate the site and pages on social networks on New Year's Eve. You can use them all at once or choose the option that you like best:
Add New Year symbols to the logo. A good option for those who do not want to spend a lot of time and are afraid to go too far with New Year's decorations.
Create a New Year's landing page with gift options, festive content, and a cozy winter design.
Make a New Year's cover for social networks. Active visitors to your pages will definitely appreciate the new design.
Add a New Year's banner to the slider on the site. In the banner, you can talk about holiday discounts and offer to choose gifts for the New Year.
Useful content
You won't get far on advertising and discounts alone. Think about what you will send out useful to subscribers and post on social networks.
There are many options for holiday content, for example:
Gift guide. The guide can be issued in the form of a blog article, posts on social networks, or a section on the website. The main thing is to help users quickly find what they need among the variety of your products.
Checklists. Your readers will need a checklist that will help them remember important things, including choosing a gift on your site.
Instructions and tips. How to prepare for the holiday, choose a New Year's outfit, get rid of excess rubbish, and quickly and beautifully decorate the house – any topic that you can connect with your business area will do.
Horoscopes. Even those who do not believe in them read them. The main thing is to make them interesting.
Results of the year. If you have statistics on customers, like, for example, banks or services, you can arrange them beautifully and send a link in an email.
Special service
Before the New Year, most people think about what to give to relatives, friends, and colleagues. However, the difficulties do not end there: you still need to beautifully pack the gift, sign the card, and hand it.
It's good when the company offers to take on at least some of these concerns. A product complemented by useful services is much more valuable. In addition, it can be used in advertising as an additional advantage.
Holiday entertainment
On the New Year, even adults want to get into a fairy tale at least for a while. This is the time when you are drawn to do something interesting, play, and have fun, gaining strength for the coming year. Many brands are well aware of the desires of the audience and launch entertainment campaigns on social networks, on the website, or on the mailing list before the holidays, such as:
Games on the site and on social networks;
Advent calendar;
Contests with prizes;
Holiday quiz.
New Year's videos
The main secret of the success of New Year's advertising is to come up with a magical story about family values. It's good if it is a little sad at the beginning but always with a happy ending.
Most New Year's videos emphasize the importance of spending more time with loved ones and supporting other people, even if they are not like you.
Augmented reality
A technology that has not yet become commonplace is a worthy version of a New Year's miracle for the target audience.
Mask for Instagram is the most popular and relatively easy way to use augmented reality. A mask is the Instagram camera's ability to add various filters and elements to users' photos and videos. For example, a Santa hat will help you write down an original greeting for your friends.
New Year newsletter
There are many options for what to write about in mailing lists. The main thing is to take into account two important points:
A chain of emails is always better than a single email.
Benefits are more important than discounts and congratulations.
Tips from competitors
Take companies from your industry and study their New Year's promotions and advertising over the past few years. If some option is repeated, then it was successful. It may be worth taking note of this idea and adapting it.
Don't think about sales – think about relationships. Selling as much as possible on New Year's Eve is an important task, but it is much more important that the holiday customers are satisfied and come back to you more than once. Therefore, do not forget to keep promises and support customers after the purchase.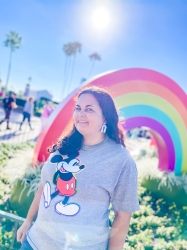 Latest posts by Krystal | Sunny Sweet Days
(see all)