Budget-Friendly New Year's Eve Party Tips
Plan on throwing a party this New Year's Eve? It will be a fun and exciting time. However, throwing a party on New Year's is different than any other day. Check out these tips for throwing the ultimate party this year.
New Year's Eve Party Tips
1. You'll need wine. One of the number one rules for throwing an awesome New Year's party is that you'll need lots of wine. Make sure it's the good kind.
You can also mix up a batch of my pink lemonade Moscato or try this mint pinot grigio wine cocktail!
2. Have a theme. One of the best ways to make a New Year's party memorable is to have a theme. A masquerade theme is always extremely popular for NYE!
3. Ask for help. If you're slightly overwhelmed with the thought of throwing a party on NYE, always ask for help. Even if it's asking someone to bring a bottle of wine that is one less thing you have to do.
4. Be smart. If you're going to have people consuming alcohol in your home, take their keys. Provide cab services to anyone who needs a ride home. You could also be the designated driver to ensure everyone gets home safe and sound. Of course, having everyone stay the night is also an option.
5. Keep the kids busy. Having adults over is always fun, but sometimes kids will be present. Have lots of snacks and games for the kids to keep them entertained as well. You can play board games and have a family game night!
Try creating New Year's Eve Slime or this glittery fun Times Square-inspired play dough.
6. Have fun with it. Don't let the stress of throwing a party freak you out. It's possible to throw a party and have fun with it!
7. Head to the Dollar Tree. One of my favorite rules for throwing a party is heading to the Dollar Tree. You can get wine glasses, party favors, and even wine bags for really cheap! Tis the season to have fun and save money at the same time.
8. Make sure you take time to relax. I know throwing a party can be stressful, but it's important that you find time at the party to relax as well. Even if you won't be drinking wine, you can still sit back and enjoy talking to your friends.
9. Have a clean-up crew ready. Many people are willing to help clean up if they don't have to host the party. Ask a few close friends to hang around and help you clean up afterward. Kids can especially be messy, so you'll appreciate the extra help.
10. Put away all your home's treasures. Another major rule for throwing a party is to put away all glass knick-knacks. Things can get a little crazy on NYE and you don't want your stuff to become a casualty.
11. Serve simple appetizers. Try these Easy Air Fryer Taquitos or make Spicy Three-Cheese Fondue.
New Year's Eve Party Supplies
I hope you enjoy throwing a party this year. It's always fun to throw a party and enjoy the company of friends and family. What's your #1 rule for throwing a party on New Year's Eve?
Save Money in the New Year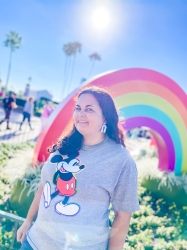 Latest posts by Krystal | Sunny Sweet Days
(see all)