Free Goals Printable: Map Out Your Best Year Yet
Have you heard that most people ditch their resolutions before February 1? The new year can bring a chance to start again or create a fresh start for your journey. I know that when 2015 began, I had big plans. I wanted to do all of the things! I wanted to read more, write more, complain less, and strive to be a better person every day. Yet, the more that I tried to do these things, the more I failed. I think I was setting too many new goals at once. I needed to find balance. I needed to develop clarity and find my vision for 2015. To streamline my thoughts, I designed a simple printable to help focus on what a new year could bring to my life.
Part of my vision for the new year is to streamline all these to do lists and all these "plans" I had created. I also didn't want to sacrifice lazy TV nights or sweets before bed. Oh, and COFFEE.
8 Visionary Ideas For the New Year

1. Balance. I am using a time log to work on where my precious hours go, and I'm looking at balancing these tasks that I do. I'm noticing that I spend too much time in my email and not enough time writing or creating content.When busy work takes over creativity, that's when it's time for a change. I'm working on cleaning up my schedule (and my inbox) this month.
2. Yoga. I promised myself to try a new exercise this year, and I would give myself grace if it didn't work out. I haven't even started yet. This is something I'm working on for February, and I have cute planners stickers to prove it.

3. Walk daily. It's a simple task that is my most forgotten "to do." The weather is warming up in Florida, so there is no excuse to not walk the dogs around the block or take a quick trip to the park. By March, I hope to be walking every day.
4. Drink more water. This is another small habit that requires the most work. I can get into a rhythm, but then I ultimately forget. Feeling good about myself is more than just remembering to check my email and trying yoga.

5. Use my planner. I feel most in control when I write in my planner. Having items to check off and to-dos to accomplish gives me a sense of achievement.
6. Party. I want to celebrate the everyday. I hope to find joy in sunny days and host spontaneous get-togethers. I want to go on a road trip with no pre-planned destination and watch the sunrise from the shore.
7. Enjoy sweets. I went a long time without enjoying simple snacks that I loved.
8. Smile more. This one doesn't need an explanation. It's time to be grateful for what I've got and share that love and appreciation.
 Seek balance even among the chaos. Need help?
Write one goal in each square. With twelve months and twelve goals, you have the time and the ability to discover your best year yet.
What should my four other visionary goals be this year?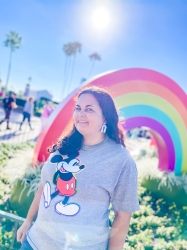 Latest posts by Krystal | Sunny Sweet Days
(see all)