7 things to consider when relocating
Are you thinking of relocating to another area? Relocating can be great fun and generate a lot of excitement – what is the local town going to be like? Who will your new friends be? However, with all the excitement, it's important to take your time and not rush any decisions. Do plenty of research in the areas you are considering moving to and spend some time there before committing to moving – you want to make sure it's the right place for you to be moving to.
From reducing the clutter in your home to visiting the place before moving and researching the cost of living in your chosen city, below we have put together seven things to consider when relocating. 
Make sure you visit the place your want to move to first
Before committing to moving to a destination, scope it out first. Spend a day or two driving around the local area and speaking to locals to get their opinion on the place you are wanting to move to. If you have the time, why not book an Airbnb and visit for a holiday? This way you can live in the accommodation like you would if it was your home. Put a spreadsheet together of a list of things you want to check out, that way you have a check sheet so you don't forget. Enquire about the local schools, the condition of the shopping center, what the facilities are like within the area and any reputational issues. When looking into the best international relocation companies, you could ask them if they have any experience of the destination you want to move to as they may have moved people there before.
Research the cost of living in your chosen city
Depending on where you are moving to, the overall costs of living in that city may be more than what you are used to. Major cities like New York are known to cost more when living there than countryside villages. The cost difference can vary hugely or only a small bit, this is decided by the place you are moving from. When doing your research, for a quick indication, compare restaurant prices, the cost of buying a drink like a bottle of wine at a restaurant or shop prices for items like alcohol-free rum, cheese or bottles of spirit as well as everyday activity prices like sports clubs or shopping. If you are lucky, it could work out the other way round and that the place you are moving to is cheaper than where you currently live.
Consider renting before buying
When relocating to a new area, if you are not familiar with the new location, it could be worth renting first. Moving to a new area can be a risk and if you are not familiar with the place, the last thing you want to happen is be stuck and unable to move until your house sells. One of the main benefits of renting is that you can stay there for a couple of months and then give your notice. This means you could rent a place for a couple of months to check if the area is like you thought it would be, then buy a place knowing you will be happy living there. Some companies offer really short-term lets if you want to keep renting to a minimum. This can also save you money as buying is expensive and can add up, especially if you buy, sell then have to buy straight away.
Reducing the clutter in your current place
Let's face it, when you look around your property, you are bound to find things that you no longer need – especially if you have lived in the same place for a while. To try and reduce some of the hassles of moving, spend some time going through your things and getting rid of any clutter. Be ruthless and start in the area that you think has the most clutter – this makes the process that little easier. If you are unsure about whether to get rid of something, then chances are you don't need it, so get rid. Remember, most things you own are replaceable, if you need them in the future, you can always rebuy them. Depending on how soon you want to move, you could try and spend an hour or two a week reducing your clutter. This way you have fewer things to bring with you when you relocate, helping you unpack more efficiently in your new place.
What are public transport links like?
Depending on how sociable you are and how much you like to explore, one of the most important things to check is the public transport links. Can your friends and family members easily visit you? Are there buses or trains near you that take you to a major city or an airport? Can you get to your local town by walking or catching a tram? Without public transport links, you will have to factor in buying a car as that will be your main mode of transport when living there. This could also make it more difficult if you have children who would like to go to a sports club or if their friends don't live very close.
What are the facilities in the area like?
Are there sporting facilities that you can easily get to? How far away are the shops and restaurants? Do you have a cinema nearby or a bowling alley? What activities or clubs are within walking distance of your home? Having fun facilities could be a major selling point, otherwise, you may find yourself getting bored or having to venture out in the evenings or on the weekends. For families, having a local park could be key as well as having large fields where you can run around kicking a football may also be important. Most of this information will be readily available on Google with a quick search of the area, however, to be sure, you may need to visit and see the facilities in person. Sometimes what Google says isn't quite accurate as it could have been added a few years ago and changed since – this is why it's important you order the reviews by date order when researching to make sure they are relevant.
What is the traffic like in the area?
You may have not thought of it, but traffic can be a big factor in whether you should move to an area. If the area is built up, you may find it can take a long time to get from one place to another, even though it feels like they are right next to each other due to traffic. If you find yourself getting impatient when stuck in traffic, then a traffic-ridden place may not be for you. To get an idea of what traffic is live, take a look on Google maps during the day to see what the journey times are like. Remember to look at peak times as well as off-peak times as this can vary. Plus, factor in being near a school as this is another consideration that could cause a build-up of traffic.
The above are seven tips that we think will help you when relocating. With a little bit of research, you'll find plenty of other tips to help make the process smoother for you. Which of the tips above did you find most useful? Are there any tips that we haven't included that you would like to share with our readers? Is there anything else you would like to share? Let us know in the comment box below.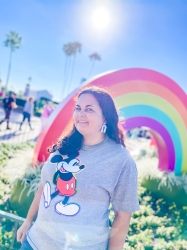 Latest posts by Krystal | Sunny Sweet Days
(see all)