How to Create a Vision Board
Vision boards are all the rage right now. I shared mine initially last summer after I purged through all my old magazines, clipped the photos I wanted to save, and recycled. Mama's Got It Together shared a round up of inspirational dream boards before sharing her own, and I'm back to share my quick tips for creating one for your home office.
1. Don't spend any money. This should be a quick project using materials that you have in your home. While I did buy corkboard for my wall, everything else I already had. I used map push pins and old magazines.
2. Be outrageous. I think the entire point of a vision board is to have BIG dreams. I make small, attainable goals in my day-to-day life. My vision board is full of wishes, desires, and gigantic goals that inspire me to be a better person every day.
3. Stay true to you. If my vision board was full of supermodels and Channing Tatum, I don't think that would inspire me very much. I picked photographs that symbolized creating a happier home, a more organized existence, and reminders to watch my health. Some items on my board were dream purchases, like a Kitchenaid Mixer.
4. Find your motto. When I was creating my board, it was easy to see a theme. I wanted to drink fancy cocktails while staying skinny and organizing my home. Yet, one main idea always stood out. Live Simply.Is a simple life a happy one? I'm not sure, but I'm trying to find out.
5. Update and refresh. My goals and ideas change often. Also, over time, I do eventually reach some of them! I removed a picture from my vision board that had an organized bookcase recently, because believe it or not, I actually organized the bookcase in my office. I also purchased more to add to my living room. See? Maybe these boards do work.
—
One thing that I am in the process of adding to my board are these positivity note cards. I received them somehow, and I think they're adorable. They're colorful cardstock with a mission to inspire you to stay positive.
That's my goal for today. What is yours?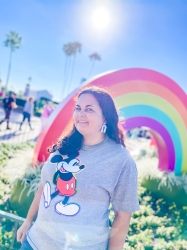 Latest posts by Krystal | Sunny Sweet Days
(see all)