How To Personalize Your Bedroom Without Spending A Ton Of Money
Personalizing your room or room design means taking a little effort to make your room look like your own creative space. Your room decor should be personalized to match your personality, by doing this you get creative with your room decor, without even needing to break the bank or even break a sweat.
There are ways in which you can make your room look elegant, and yet still have designs that are reflective of who you are, like having a personalized room design. Sometimes you can feel stuck when considering which design to use or not to use, and this can be bothersome when you want a personalized room decor, all you need to do is seek inspiration from things you love, so you get a clue on how you can personalize your room perfectly.
If you want to fully understand how you can personalize your room without having to break the bank, read further:
Seek Inspiration
First things first, when designing a personal space, you need to feel inspired – you have to feel inspired by the things that make you smile and happy, things that light up your day and mood, things you love. Luckily, you can find ideas and inspirations online to get a clue about how you want to personalize your room. And by feeling this way you get to have a sense of direction as to how you want to personalize your room space in the best way possible. For instance, If you're inspired by sports, the team behind visionbedding.com/custom/window-curtains suggests using a custom window curtain that has a picture of a soccer field printed on it to design your window. More so if you're inspired by art, you can hang some of your favorite artworks on the wall – framing them makes them even more beautiful.
Place Plants That Match Your Personality In Your Room
Placing plants in specific places in your room brings positivity and liveliness. They make you feel comfortable and connected to your surroundings, more so, they bring a vast amount of color and radiance to your room space.
You've got to find plants that truly describe your personality – your personality determines the kind of plants you should have In your home and there's always a plant to suit just anyone's personality. Remember, to opt-in for small plants as they fit better in the bedroom, larger plants fit better in the living room.
Go Big With Accessories And Items
Having one or two treasured items or accessories hanging around in a well-placed space in your room can make your room feel personal, these items can include anything like – a treasured book, blanket, portrait, etc. It can be an item you got from your parents, sibling, friend, or colleague.
These items or accessories should be well-placed and arranged in your room. They can be arranged neatly on a small shelf in your room. This makes your room feel and look more intimate and personal.
Display Your Photos
There's nothing more personal than displaying your photos in your room. It doesn't get more personal than that. You can frame some of your favorite personal photos or even more so, family photos, that remind you of something nice and beautiful, and then hang them on the wall — if it's a big portrait — if it's a small portrait, you can place it on a desk close to your bed.
Make Use Of Decorative Pillows
Decorative pillows are nice and beautiful items you should have in your room, they improve the overall design of your room. Having decorative pillows in your room is a great way to easily personalize your bedroom, without spending too much. They make your room look inviting, and colorful. You can also design your pillows with nice and beautiful designs.
Change Your Hardware
You can replace your drawer and door handles with new and fanciful ones, by doing this you bring a fresh new look to your room. They bring personality and style to your furniture.
Create a Reading Corner
You don't need to do much when creating a nice and cozy reading space, all you need is a chair comfortable enough for you to sit, a standing lamp, and a book. Now tell me, how is this, not a cozy personalized space?
Add Scents To Your Room
Making your room smell in a particular way is another easy way to easily personalize your bedroom. You can place a scented candle somewhere in your room, and it should be a scent that calms, refreshes, and reminds you of something nice and special.
Conclusively, you can also personalize your room by sticking to a color scheme. Your lights, sheets, curtains, furniture, wall, and ceiling can have similar color patterns, well not the same, but they should all look similar, why? It gives your room a signature look.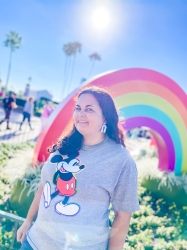 Latest posts by Krystal | Sunny Sweet Days
(see all)