A List Of Creative Ways You Can Redo Your Bedroom In
Have you or someone you know recently been looking for some simple and effective ways to actively improve the layout of a bedroom? Maybe you have had the same bedroom for years now, and you think the time has come to switch a few things up and modernize? Perhaps you have just recently moved into a new house, and you want to remodel the bedroom before you begin moving your stuff in? If any of this sounds familiar, then keep on reading to learn some helpful info. This article will break down some of the most creative ways you can redo your bedroom. Having a nice bedroom will allow you to sleep better, and enjoy your evenings and mornings much more. Make sure you are looking forward to spending time in your bedroom. 
Full-length Mirror
An amazing addition to any bedroom is a full-length mirror. It can be extremely annoying to try and get ready for a big night out on the town and all you have is a small mirror or a large one in the bathroom. Getting a full-length mirror in your bedroom will allow you to try on different outfits within the comfort of your room, and help you to avoid going between different areas to get yourself looking sharp. Mirrors can also be helpful in making your room look bigger and less crowded if you do not have a lot of space. Ditch the small mirror on the wall and get a full-length mirror instead.
Bedframe
Most beds come with a stock bed frame that very rarely stands out and matches your room. Getting a new bed frame is an easy way to change the look of your room, and provide you with a stable place to rest your head at the end of the day. There are numerous styles that bed frames come in, and you can usually choose a material that you think will match your room the best. Bed frames also range in price quite a bit, and can sometimes be as cheap as $50 or cost thousands of dollars on their own. Whatever your budget is, be sure to do some research and you will be able to find a product that is perfect for your bedroom. 
Cabinets
Having things laying around your bedroom is never a good look, and can even pose a tripping hazard when you go to use the bathroom in the middle of the night. In order to avoid having a cluttered bedroom, you can include some storage to help you get stuff off the ground and make your room look tidier. Try looking for a cabinet that is made specifically for bedrooms and you will be able to look through some different options to see which is best for your setup. Be sure to carefully measure your space so that you can accurately plan where you will put your cabinet to optimize the space.
Mattress
One of the most important parts of any bedroom is the mattress that you sleep on every night. Having a mattress that is old can not only result in the quality of your sleep suffering but can also have negative health effects as well. Dirty mattresses can trap dust and other contaminants inside, and have an effect on your breathing and sleep. When you eventually go to replace your mattress, you could consider some different mattress sizes to potentially improve your bedroom setup. A bigger mattress will allow you to spread out, and not worry, and be crowded when you and your partner lay down to go to sleep.
Walk-in Closet
Walk in closets are something that can make any bedroom look way better by adding one. This will give you a designated space to keep all of your clothes, shoes, and other essential items that would normally take up space in your room or dressers. If you are already making some substantial changes to your bedroom, then adding a walk-in closet is something to definitely consider. These excellent additions are also great for increasing the resale value of your home without requiring massive investment.
Flooring
Something that is immediately noticeable when you walk into a room is the type of flooring that has been put in. Many older bedrooms have ugly carpet, or poorly maintained hardwood floors, which can make an otherwise nice room look pretty bad. If you are looking for an easy way to make your bedroom look much better, then consider installing some new hardwood floors with a nice stain on them. Good flooring is an excellent investment and will generally last you many years if it is properly maintained and cared for. Get rid of your ugly carpet and upgrade your bedroom.
Bedside Table
When you are thinking of new ways to improve your bedroom, then checking out some new bedside tables might be a cost-effective way to make things look a little nicer. Most people have bedside tables so that they have an area where they can keep things like books, glasses, water bottles, or other items that they might need when sleeping. Bedside tables come in many different sizes, materials, and colors, so you should have no problem finding something that is the perfect match for your bedroom and furniture.
After reading through some of the suggestions included above, the hope is that you have discovered some creative ways that you can redo your bedroom. Making your bedroom look nice does not mean that you need to spend huge sums of money to make a noticeable difference. Carefully planning and budgeting will allow you to find some amazing new additions for your bedroom that will be both affordable and make a huge difference in your layout. This list only includes a few different creative ways to redo your bedroom, so make sure that you keep on looking for other ways, or experimenting on your own to see what you come up with. Stop dreading the moment when people see your bedroom and make some changes so that you can be proud of your room.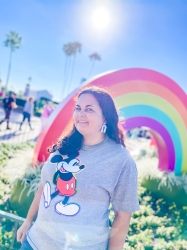 Latest posts by Krystal | Sunny Sweet Days
(see all)