6 Tips to Maintain Your New Year's Resolutions
The new year is a time for fresh starts, and that usually means making some resolutions. Whether you've resolved to exercise more, eat better or save money, it can be tough to stick to your goals. But with a little planning and effort, you can increase your chances of success. Here are some tips for staying on track with your New Year's resolutions.
1. Set Specific Goals
Setting goals for the year ahead can be a great way to stay motivated and organized, but it works best when you are specific when setting those goals. You're much more likely to fail if your goals are too open-ended. This year, instead of just resolving to organize your come, why not make a goal of opting for more sustainable food storage containers? You could also resolve to work out for 20 minutes every day as opposed to committing to simply losing weight or getting healthier. The more specific your resolutions are, the better!
2. Ask a Friend or Family Member to Support You Along the Way
Reaching your goals can be difficult, but having the support of friends and family makes a big difference. It's important to find someone who truly believes in you and won't give up on you when times get tough. Think about someone in your life whom you trust, that you know is reliable and who always has your back. Having someone there to keep you motivated, provide advice and celebrate each success along the way will help you immensely when it comes to sticking to your resolutions.
3. Set Up a System of Reminders and Rewards
Do you struggle to keep your resolutions because reaching your goal seems overwhelming or unachievable? Or do you forget about them altogether after a while? If so, setting up a system of reminders and rewards may be exactly what you need to stay on track. Start by breaking your resolutions down into manageable chunks. Schedule times in your week for accomplishing each task, and then set up a few reminders to keep yourself motivated.
Also, don't forget to reward yourself after completing each step. Whether it's five minutes of scrolling on social media or filling up your favorite coffee mug and sipping on your favorite brew, find something that motivates you, and enjoy it guilt-free once the job is done.
4. Jot Down Your Progress Regularly to See How Far You've come
Keeping track of your progress on a regular basis is an incredibly important part of staying motivated and making sure you stick to your resolutions. Knowing how far you have come since the beginning is a great confidence booster and also helps you to keep going in the right direction. Regularly checking up on what has been achieved helps you stay focused on your current goals and provides the motivation to move forward.
Journaling is an excellent way to keep track of your progress. It also provides mental health benefits that can make it easier for you to stick to your goals. Don't get caught up in trying to journal the "right" way. Just write whatever floats into your mind, and use journaling as a means of recording your thoughts and progress. Once you get the hang of it, journaling is also an excellent way to plan how you'll work to achieve even your most complex goals.
5. Don't Be Too Hard on Yourself if You Slip Up. Everyone Makes Mistakes!
No one is perfect, and it;'s important to remember that. Whether we like it or not, we all make mistakes. The key is learning from your mistakes and doing your best to not repeat them again. If you make an error, try not to beat yourself up about it. You don't need to give up on your resolutions entirely just because you missed a day of exercise or didn't manage to finish organizing your kitchen by your self-imposed deadline. Even if you stray away from your resolutions for a few days or weeks, you can always get yourself back on track. Just accept your mistakes and move on.
6. Celebrate Your Successes
When you achieve a goal, celebrate! Celebrating your successes, no matter how small, is important in recognizing the progress you are making and keeping yourself on track. Not only does it help boost your morale, but it can also be quite inspiring to see progress over time. Treat yourself to a spa day, buy yourself a new book or make yourself your favorite drink using a cocktail kit. No matter how you choose to celebrate, you'll be helping yourself maintain your New Year's resolutions and keep moving forward.
Conclusion
If you want to make this your best year yet, start by following the tips above. Get specific about what you want to achieve, and find someone who will support you along the way. Set up a system of reminders and rewards to keep yourself on track, and don't forget to write down your progress regularly. Most importantly, don't be too hard on yourself if you make a mistake or get off track for a little while. Celebrate your successes, no matter how small they may seem and, before you know it, the end of 2023 will be near. Just imagine; by this time next year, you could be exactly where you wanted to be. So, what are you waiting for? Give these suggestions a try and see for yourself just how easy it can be to maintain your New Year's resolutions throughout the entire year.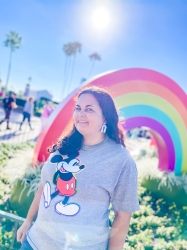 Latest posts by Krystal | Sunny Sweet Days
(see all)