Blog Planner Organization
I have been doing a planner tour this week. I started off by sharing my family and home management notebook along with my tab for goals and my space for New Year's resolutions. That same Martha Stewart disc bound system also is home to my blog planner.
Blog Planner
I was tired of constantly buying planners at Target and not being able to do everything I wanted to do with it. I used an Erin Condren planner for two years, but I wanted more. I wanted more room and different pages. I decided to make my blog planner myself for the new year…a combination of calendars, printables, and Martha Stewart office supplies from Staples!
In the pocket I store a Sugar Paper planner that I found at Target. I use this to see the entire month at a glance and write out what I'm up to. I probably will end up doodling in the margins, playing with washi tape unnecessarily, and crossing a lot of things out.
The insides are home to a variety of printables (both free and paid). Up front is a list of quick blog tasks and goals.
Does this look familiar? I created it last July as a free blog printable with ideas for increasing engagement and reach on your blog. I added it in to quickly reference it, and I hope to implement some of these ideas. For example, the last time I updated my About Me page was last July. It's time to refresh the information!
I also have a Daily To Do List from Sew Much Crafty. I love how easy it is to reference this. Some of the reminders may seem silly to you (of course I will reply to emails!), but sometimes I do let the day get the best of me. I neglect my inbox or skip a day of social media. While that is totally healthy and normal, if I make the effort to share a new blog post I should make an effort to include it on all my social media networks.
Up next is a weekly blog schedule. I will use this space to remind myself of any link ups I want to participate in or any other marketing ideas for the day.
The last section in the blog planner is all about money. I'm going to start keeping track of my affiliate information, giveaway ideas, and all income earned. Also, whenever I receive anything in the mail to review… it's going on the list! I sometimes have a bad habit of opening up fun packages and not logging what I received!
In my "Notes" section of my planner I have a few handouts and ideas for the upcoming year. The majority of them are from the Content Brew Course that I finished in December. Mom Comm created this course that is designed to help you generate a LOT of content and teach you how to schedule and market it. I loved her ideas and her streamlined process for tracking blog ideas and scheduling posts.
Content Brew had other handouts and materials, but this is just a little peek at the pages I've saved for my notebook.
—
My goal is to use my planner more frequently to stay on track.
How are you preparing for the New Year?
Other Planner Inspiration:
Goals & Resolution Planning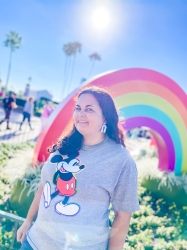 Latest posts by Krystal | Sunny Sweet Days
(see all)