10 Tips To Renovate A Kitchen
So you're thinking of renovating your kitchen. This is one of the most exciting parts of home renovation, and of course, it brings you a step closer to finally having the home of your dreams. But as exciting as it is, a kitchen renovation can also be stressful and time-consuming, especially if you're not entirely sure how to start. If this sounds rather familiar to you, there's no need to worry. Here are 10 very helpful tips to renovate a kitchen that can have you well along the way of getting your perfect kitchen.
1. Set your budget
Renovating a kitchen can be quite exciting, but don't forget that it can also be quite pricey. That's why setting a budget before you even start planning your kitchen renovation is key. While planning your budget, there are a couple of things you need to take into consideration. First of all, will your renovation be done by a team of professionals, or are you ready to go the DIY route?
Keep in mind that a professionally done kitchen means far less stress for you, but far more expenses compared to if you did it yourself. You also need to consider the extent of your renovation. For example, are you looking to do a complete kitchen renovation or a partial renovation? These things need to be factored in as you plan your budget.
Another thing you need to think about is the fact that you do not want to spend too little if you really want a job well done. But at the same time, you do not want to spend too much. Also, you may need to allocate some money for unforeseen expenses in your budget. Set some time apart to think all these things through, and then create your budget. Once you have it, make sure you stick to it and don't go over.
2. Consider the size of your kitchen
Before diving headfirst into the renovation process, you need to consider the size of your kitchen. A smaller kitchen means that you'll need to shop for all your kitchen fixtures and appliances with that in mind. You do not want to end up buying a fridge that you love only to find out that it doesn't even fit in your kitchen space. With a bigger kitchen, you have a lot more leeway. However, you need to make sure you actually take advantage of the bigger space you have, as it is easy for a big kitchen to look scanty or 'empty' if space is not utilized properly.
When it comes to size, also think about the height of the cooks in your house when buying your appliances. For instance, a very high or tall stovetop may be difficult to work with for someone who is below average height. You want to make the cooks' lives easier, not harder, so you're going to want to consider their sizes as you go about purchasing your appliances.
3. Pick out your sink and drainage
When you think of prep work and clean up, you think of your sink. A lot of the work you do in the kitchen centers around your sink, so you have to select a sink that would best suit your kitchen's functional needs. There are a couple of things you need to consider when choosing your sink. You first need to think of the size of the bowl. While a large sink bowl allows for easier cleanup, it can also take up a large amount of space from your counter. Another thing to consider is the number of bowls.
Dual sink bowls are gaining a lot of popularity because one can be used for soaking while the other can be used for washing. Again, this can take up a lot of counter spaces so you need to keep that in mind. Finally, when installing your sink, you need to think of drainage. It is best to employ the services of a professional, like the Swiftdrain residential drainage, to install a proper drainage system for your kitchen.
4. Choose your kitchen island and its use
Kitchen islands are becoming more and more popular as a design addition to kitchens, and rightfully so. These islands can be particularly useful for when you need more storage space, so if this sounds like a need of yours, then you might want to seriously consider adding a kitchen island to your space.
Choosing the right kitchen island can be tricky though, so make sure you don't commit to the very first one you fall in love with. As helpful as these fixtures can be, they can also cause movement and traffic issues if you pick the wrong size. An oversized island can greatly limit the number of people that can be in the kitchen at a time, and can even block your workflow. This is why again, you need to consider the size of your kitchen before picking out a kitchen island. Make sure you have enough space on each side of the island, and that all your cabinet doors can be opened easily.
Once you've picked it out, you need to decide on its function. Some people just want it for the extra counter and cabinet space, while others feel the need to add an additional sink top or cooktop on it. If yours is the latter, make sure that you still have enough space leftover for dining purposes among other things.
5. Pay attention to your lighting
One of the most important aspects of your kitchen is the lighting. Both natural and artificial lighting play their part in the way your kitchen space looks. When it comes to natural lighting, your focus will need to be on your windows. Your windows determine how much light comes into your kitchen. Ideally, a kitchen space needs to be well lit, so bigger windows positioned over the sink are a good way to go. If you already have big, well-positioned windows, then great. If not, you might want to consider your options. Expanding your windows or repositioning them or both might be necessary to best utilize natural lighting.
On the other hand, is artificial lighting. When the sun goes down, you'll have to rely on your artificial lights, so they have to be bright enough to allow for good vision without giving off a glare. Your lights should also be able to be controlled, so you can adjust the brightness and dimness to suit the time of day. Finally, the position of your lights is key. Your work area should be well lit, so under cabinet lights should be installed.
Also, ceiling fixtures are best for providing a general lighting source, so those should be installed as well. You might also want to consider installing lights around the dining area or kitchen island. A modern, low hanging chandelier can really get the job done.
6. Pick out your cabinets and countertops
Your cabinets are probably one of the very first fixtures that catch the eye when someone walks into your kitchen, so be sure that they look good. Before even picking out your cabinets, you're going to want to measure out space they'll occupy. Please do not use the measurements from the house plan, as you might find out too late that they are inaccurate. To avoid any issues, just measure the space out yourself. Once you have your accurate measurements, you can start shopping for cabinets.
There are cabinets made from different materials, with different finishes, but it is best to start looking at options within your price range. Ready to assemble cabinets are the cheapest types you'll find at the store, while custom kitchen cabinets are usually the most expensive.
When you've picked out your cabinets, you can move on to your countertops. You can measure the base of your cabinets in order to get the correct countertop measurements. Again, just like with cabinets, countertops come at different types and prices, but you can never go wrong with granite, marble, or quartz.
7. Choose your flooring
Your kitchen floors are immensely important. Yes, they need to be practical, but they also add to the overall appeal of your kitchen. There are a wide variety of flooring options for you to choose from, however, you need to select one that works best for you and your kitchen.
For example, wooden floors are very popular in kitchens. It gives your kitchen a very open and warm outlook while delivering a good underfoot feel. It is also one of the more affordable flooring options out there. Another good option is tile floors, which come in an array of colors and styles that would best suit your taste. These floors are highly durable and perfect for high traffic areas in your kitchen.
8. Incorporate your personal style
At the end of the day, a remodeling, be it in the kitchen, bathroom, or otherwise, gives you the opportunity to express your sense of style and design. So make sure to take advantage of that in the process of giving your kitchen a facelift. If you like any particular kitchen trends or colors that you feel will look good in your kitchen, don't hesitate to include them. Integrate aspects of your own personal style so that at the end of the renovation, it still feels like 'your' kitchen.
9. Choose the location of your oven and microwave
Usually, the oven is grounded and comes together with the stovetop, but more modern variations of ovens and microwaves can now be placed above the countertop. As cool as this seems, you might need to consider the people in your home before going for this option. If you have little kids that use the microwave and oven, then a lower position might work best. However, if this is not the case, then a higher positioned microwave and oven can work well for your kitchen.
10. Install outlets
While you give your kitchen a makeover, make sure you don't forget to have outlets installed. The best place to have your outlets is along with the backsplash of your walls. You can also have some outlets installed on your kitchen island. You'll need them to plug in your appliances, so ensure that they are added.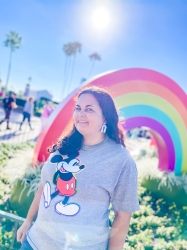 Latest posts by Krystal | Sunny Sweet Days
(see all)