How to Save Money on Makeup
Wouldn't it be nice if you could wear makeup without having to spend so much money? Now you can. You can save money on makeup in several ways. If you're a cosmetics junkie like me or want to learn more about how to add color to your everyday look, this post is for you. Here, you'll discover a few ways to save money on your makeup costs.
Make Your Own
It's actually fascinating to see how crafty women are becoming. We may want something, but we learn how to make it. I've seen YouTube videos on every topic from making your own lipstick to using essential oils to add a peppermint scent to your lip balm. I love to make homemade body scrubs (for example, a coffee cinnamon scrub is my favorite), and the project makes a fun girls' night out activity, too.
Buy in Bulk
Your favorite beauty stores might sell a face cream in a smaller jar and a larger jar, but the larger jar typically has the better value per ounce. Consider buying your favorite items in their larger counterparts to keep you from shopping for your go-to items so often.
The holidays are also a good time to buy items, since many brands package 10 lipsticks in a special gift set or offer a variety pack of body washes at a special price.
Take Advantage of Inventory Reduction
Thousands of people sell makeup from other companies, so keep your eyes and ears open for a time when someone decides to reduce the stash. You'll be able to get makeup cheap, and the deals will be unbelievable. More than likely, these items have never been used except for a quick color swatch or to display sizes at a makeup party.
Use Less Makeup
Another way you can save money on makeup is by using less. Unless you choose to, you don't have to wear makeup every day, or you can use smaller portions of your creams and foundations. Besides, when using makeup, a little goes a long way.
Check out tutorials that show you how to make the most of your makeup without wasting it. I have learned that I need only a quarter-sized dollop of conditioner, and I use even less shampoo.
Get Drugstore Discounts
Buying your makeup at a drugstore might seem weird, but this purchase makes total sense when you're trying to save money. Sometimes makeup items are greatly marked down, for sale at 50 percent of the list price, or for sale as part of a buy one, get one free deal. When paired with a store loyalty card for rewards, you can stack your savings.
Don't Skip the Dollar Stores
You never know what you will find on dollar-store shelves. I researched a few options for dollar-store makeup, and I was pleasantly surprised to notice drugstore brands in the inventory. Not everything will be a win, however, but simple lip balms or nail polishes shouldn't be overlooked just because they're a discount brand.
Display What You Own
Don't you hate when you buy new nail polish in the same shade you already own? I have learned that if I don't have clear displays of my makeup, I overbuy and rebuy products I haven't used yet. I recently wrote about how I use Mason jars in my bathroom, and one of my tips includes displaying your products, organized in jars, on your counter.
Read Beauty Blogs
Beauty bloggers and vloggers always have the best scoop on makeup deals. Not only can you learn ideas and find the latest cosmetics coupons, but you can also find new tips for makeup. Amway's makeup and cosmetics blog, for example, has tips, tutorials, and other ideas to ensure that you look your best.
If you're looking to save money on makeup, the ideas above will inspire you, but here are some further suggestions. Always keep an eye open for sales on makeup. Stick to one brand, then keep an eye for when that brand goes on sale. However, if you're not picky about the brand, you can also save a few bucks, too.
What tips do you have for saving money on makeup?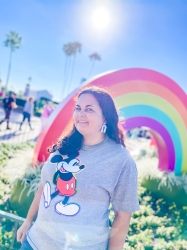 Latest posts by Krystal | Sunny Sweet Days
(see all)