Things You Need and Things you DON'T for your Baby Registry
There are too many baby products, too many baby books, and too many blogs telling you what to buy a new parent. In fact, I've even shared a few blog posts about baby gifts and what we used during my son's first few months. When I was pregnant, I wasn't even sure what types of baby gear I wanted. My baby registry was full of things I read somewhere or thought I needed. I returned way too many items after my son's birth, and I have learned my lesson. Just because you read it online or in a baby book does NOT mean your particular family will use it. I'm also a minimalist by nature (believe it or not). I didn't need 100 receiving blankets or burp cloths. I honestly can't even remember a time I used a burp cloth with my son. I skipped that whole diaper bag thing (I just use whatever bag I'm carrying), and since my son is almost two, I'm here to tell you the down and dirty facts of baby gear and what has lasted this long.
Baby Registry Essentials
1. Diapers. Diapers are the BEST gift for any new parent. Think ahead and buy multiple sizes. I know it's nice to receive a TON of newborn sized diapers so the new parents don't have to run out to buy some, but my son was barely in newborn diapers. Size one diapers are just as necessary (so are size two, three, and even four!). While it has taken nearly two years to reach size five, a diaper stockpile is never a bad thing. Luckily I didn't have to return any sizes! We were lucky since my son didn't have any sensitivity to any brand, so we were able to purchase whatever was on sale.
2. A diaper pail (and refills!). A diaper pail was one of those nursery essentials we just had to have. I wasn't sure how this plastic container would keep the smell away from our home or be effective during those late night changes, but I soon learned just how powerful it was. During the course of my son's infancy, we had THREE dogs who love to get into the trash. I can only attest to the fact that its engineering keeps the smell out of the house and provides an easy way to take tons of dirty diapers to the trash. And, I do mean TONS. I feel like that thing can always hold just one more diaper! Refills are necessary and a perfect gift as well. I received a few packages of refills at my baby shower that lasted me almost a year.

3. A food processor (or baby food processor). This is a neat item to have on hand when your child starts solids. I enjoyed making my own baby food every now and then, and now I use it to make smoothies. Making baby food purees was something that was easy to do and helped us save a little bit of money. I recommend this one!
4. Books. Lots and lots of books. You would be surprised how many books end up torn, wet, or downright disgusting with a baby. We have gone through several editions of his favorites, but the thick board books have held on this long. Our son loves to turn the pages of the books and point to the various characters and animals. He has a thing for birds, ducks, and DOGS. Bring on the furry board boards! The ones with textures and materials are his favorite.

5. Play yard. It was amazing that our play yard handled the abuse from a baby and two dogs. It was essential to getting things done around the house and just knowing we had a safe place to have our son play.

6. Bottles, bottle warmer, and a rack to dry them on. I purchased a starter kit at birth, and the bottles lasted the entire time we were using a bottle. I replaced the nipples, but I didn't do it because they were worn or broken. I just felt it was time. The warmer was the best–fast and efficient.
So, fess up. What baby gear essentials lasted a long time?  Once you have your child's room set up, try these tips to help organize your playroom! You might also like The Allergy-Sufferer's Guide to Housekeeping.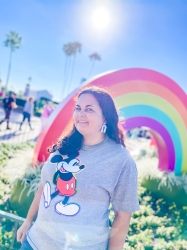 Latest posts by Krystal | Sunny Sweet Days
(see all)