Top Creative and Educational Activities to Do With Your Toddler
A toddler's mind is a miraculous thing. Unaffected by the nuance of the world, children in the toddler age range are exploring, creating, questioning, and laying the foundation for all of their future endeavors. Due to the highly impressionable nature of young minds, it's of the utmost importance that they have access to the right tools and experiences to progress and enrich their learning. Encouraging creativity and education from an early age will instill your child with the necessary tools to make good decisions, extrapolate on themes, and find and embrace their individuality as they age.
Creating a schedule and finding the best experiences for your toddler can seem daunting, especially as it pertains to enhancing their overall learning and artistic merit. While there are many options out there for the new or inquisitive parent, some lead the pack in their accessibility and resulting benefit. Unsure of how to occupy your toddler's time? Here are some of the top creative and educational activities to do with your toddler.
Scavenger Hunt
A scavenger is one of the most customizable and most effective methods of play for engaging toddler minds. By extending a chance to recognize objects, you'll be providing a simple and entertaining way to incorporate learning in your toddler's playtime. Children in this age range love to hide and find objects, so a scavenger hunt is a perfect appeal to their preferences and learning style. In addition to this, adding basic thought-provoking clues will provide even more chances for educational progression. Getting toddlers to use their problem-solving and matching skills in game form has truly never been easier.
Flashcards
One of the best educational tools you can provide your toddler is a game of flashcards. These simple yet effective educational gadgets will seamlessly provide your toddler with a fun and effective chance to work on a whole host of skills while having oodles of fun. A whole range of topics is covered by Playskool toys in the various sets they offer. The bright colors and shapes displayed on the cards easily attract attention while provoking valuable learning moments. Flashcards are the perfect way to introduce the learning process without overwhelming your toddler, all the while ensuring they maintain interest and have a great time.
Collage Crafting
An amazing way to appeal to the creative side of a toddler's mind is to initiate a collaging session. This is an effective lesson in creativity and education, as well as a chance to have fun with your child. The beauty of collage is the sheer number of artistic possibilities. Toddlers can choose from an array of colors, shapes, numbers, letters, textiles, and fabrics to create their pieces. Creating free-form artwork has multiple advantages, as it provides ample room for decision-making and critical thinking.
Leading your toddler with questions about what materials they are selecting and why is a great way to engage with their creative minds. As children learn new facts they need an outlet in which to apply and test them. The art of collage is an excellent outlet for children to pair their fine motor skills with self-expression and
Dress Up
Here's an activity perfect for occupying high-energy toddlers- dress up! Playing dress up and doing things like putting on funny voices is ideal for collaborative play, and can be incredible for strengthening social and language skills in your child. In a safe and accepting environment, toddlers will be able to gain confidence in speech, all while letting their imagination run wild.
Learning how to interact in small groups is a huge building block for both social and academic settings, as students will have to transition to group arrangements for their future schooling. Additionally, when playing dress-up children can actively implement their learning on other subjects, and physically embody some of their newly obtained knowledge. 
Being active and engaged with your toddler is one of the driving forces behind their future success. Aside from that, putting in the time and effort to take an active role in influencing your child's learning and creative development can help immeasurably. By forging a strong connection with your child, not only in a sentimental sense but also in an exploratory one, you will be giving them an unimaginable advantage.
By utilizing the activities listed above, your toddler will have fun and be introduced to learning and creativity in the best possible way. Starting from the examples given, feel free to customize activities as your child needs and prepare to see them flourish!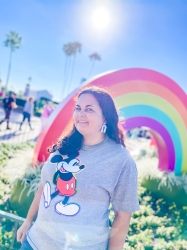 Latest posts by Krystal | Sunny Sweet Days
(see all)