How to Create a Candy Buffet
I participated in an Ambassador Activation on behalf of Influence Central forWaterWipes. I received product samples to facilitate my review as well as a promotional item to thank me for my participation.
Hosting a candy buffet at your next party is a great way to offer your guests sweet treats and provide them with a goodie bag to take home. By offering a candy buffet your guests can select which items they enjoy. Your candy buffet can look fancy and be inexpensive by purchasing majority of your supplies at your local dollar store. To clean up (or to help mommies with their babies!), try using WaterWipes!

All of my guests were treated to something special. WaterWipes provided enough wipes for everyone, and that was awesome since this candy buffet was kind of sticky! 😉 These chemical free wipes are 99.9% water! They don't contain preservatives, and they are not interfolded. The wipes are held in a sterile environment!

As for the candy buffet, here's how we set it up:
Table Cloth: head over to the party section of your local dollar store and purchase a tablecloth to match your party colors.
Party Décor: dress up your candy buffet with dollar store decorations. You can use confetti to cover the table around the candy dishes and garland to decoration the rim of the table. All for only a buck.

Candy Dish: the best candy buffets have a full variety of candy dishes. To really make your candy bar stand out you will want to use various size containers. The dollar store is a perfect place to find glass vases, glass jars, and glass candy dishes. Save money from buying the expensive candy apothecary jars by using glass vases and containers found in the floral and candle section of the dollar store. You can also add some mason style jars to your candy buffet.

Tip: to avoid purchasing a large quantity of candy if your party is smaller, you can fill the bottom of large vases with sugar or marshmallows to take up space at the bottom. This will also help hold up candy that is on sticks such as lollipops.
Candy Scoops: don't forget the candy scoops! No one wants to eat candy out of a dish that has had multiple hands dipped in. To mix it up, add various size and style scoops for each dish of candy.

Craft Paper Banner: create your own flag banner to hang above your candy buffet table to add a creative touch by purchasing scrapbook paper in the color theme of your party. You can also use scrapbook paper to make decorative placemats to go under the candy dishes. Labels: it is always nice to label each dish of candy so your guests know what they are selecting. Even if it is clear what the candy is, labels are an easy way to give a personal touch to your candy buffet – and they look cute! You can purchase paper to print labels on or purchase the peel and stick labels in the office section of your dollar store.
Most candy buffets have either a theme or a color scheme. You can decide to create a rainbow of colors or stick to just one color for your entire candy layout. Below are a few ideas for solid color candy that you may be able to find at your local dollar store.
Candy Color Ideas
Red:
Twizzlers
Cheery Sours
Swedish Fish
Fire Balls
Blue:
Sour Patch Kids
M&Ms
Blue Sixlets
Blue Cotton Candy
Green:
Air Heads
Jolly Ranchers
Green Rock Candy
Green Gumballs

Make sure to use #WaterWipes! My guests liked the clean feeling that each wipe had, and they were all thrilled that they were mostly water. They took home 10-count sample packs, and they loved that they could put them in their purses and diaper bags for each wiping on the go. I love to share products with my friends and family that are safe and promote healthy living. My mom group LOVED that these were chemical free, and I have a new group of WaterWipes Moms! We sat and chatted about our children, and we discussed which products worked best for our little ones. From rashes to irritation, we have been through it ALL! A WaterWipes Mom is someone who wants the BEST for their kiddos. She understands how challenging it can be to be a mother, and she is chemically-conscious. However, we are non-judgemental! Do what works best for YOUR family! 
WaterWipes is a European brand, and it's a checmical free baby wipe that contains only two ingredients (99.9% purified Irish water and 0.1% grapefruit seed extract). It's a durable wipe that is safer and more natural.

Beyond solid color candy you can make your own colorful treats to add to your candy bar. Colored popcorn, homemade colored cereal bars, and candy-dipped marshmallows are a few favorites that can be customized to match your candy buffet theme. We also always add a dozen cupcakes to the buffet bar too!
Have you ever hosted a candy buffet? Have you tried WaterWipes yet?
[amazon-related-products keywords="candy buffet"]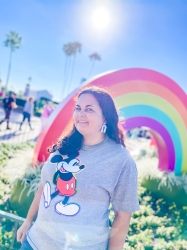 Latest posts by Krystal | Sunny Sweet Days
(see all)