How to Prepare for Caring for an Elderly Relative
Getting older is an inevitable part of life, and sometimes that might mean that a senior relative will require more support as they move into their golden years. It can be difficult to decide what type of care is best when you're faced with this situation, as there are various options available. While moving your elderly parent into an assisted living facility might appeal to some, for others, this doesn't feel like the right course of action. You may feel like it is your responsibility to care for your elderly parent yourself, and while this is a noble gesture, it shouldn't be taken lightly. If you have been thinking about doing this, here are some things you need to think about to help you prepare for it. 
Talk to Your Family First
You might be all set to look after your elderly parent, but what about the other people in your household? It's important to acknowledge how your partner and children feel about your plans, as moving an elderly parent into your home with you will change everybody's lifestyle and living environment. You should also consider how your siblings feel about this if you have any, as they might be more comfortable exploring other options or be able to offer you help as the primary caregiver. Your parent should be consulted about this too, as you might be surprised to find that they aren't comfortable with this arrangement and want to consider a different route as well. Once you have everybody's consent and support, only then should you begin to make arrangements to move your parent into your home.
Home Modifications
You will also need to consider what (if any) modifications you will need to make to your home to make it a safe environment for your senior parent. If they do struggle with limited mobility, you will need to put support bars in the shower and around the toilet, or perhaps invest in a shower seat that they can use to reduce the chance of slips and falls. If they use a wheelchair, you will need to install wheelchair ramps to make it easier for them to get in and out. You will also need to create a bedroom for them on the ground floor with bathroom access or put in a stairlift if this isn't possible. You might also need to widen doorways and hallways to make more space to accommodate their wheelchair and even lower kitchen counters so they can do things like making themselves a cup of tea when you're not available to do this for them. You may have to make additional modifications as time passes if their condition changes.
Finances
Another thing you must think about before moving an elderly parent in with you is how this will affect your finances. There will be an extra mouth to feed, another person using your water and electricity, and potentially the cost of medications or healthcare treatments on top of all of this. As a caregiver, you might be entitled to financial support through government schemes, which you can find out more about here. However, even if you do qualify for this, it's always a smart idea to make sure you have money put aside to help cover these additional costs. Look at your savings to see how much you can comfortably spend on going towards caring for your parent at home, or if you will need to find other sources of income. Your parent might be able to chip in with household bills if they can afford to and are willing to do so.
Support and Training
As well as looking into financial support, you need to make sure you're getting emotional and practical support as well. Looking after an elderly parent can be very stressful and a lot of hard work, it's not something you can just throw yourself into and expect everything to run smoothly. At least once or twice a week, arrange for a professional care giver to come in and take over from you. This will allow you the chance to have a bit of a break which will be necessary. You might also have to have a nurse visit your parent in your home if they require certain medical treatments and monitoring. You might also want to think about getting some specific training in looking after your senior parent as this knowledge will be invaluable and help to keep you and them safe.
Alternative Options
Even if you're not keen on the idea of getting your parent to move into a care facility, you shouldn't take this option off the table. It might get to a point where you simply can't provide them with the quality of care they need, or you are overwhelmed, and being their primary caregiver has begun to be detrimental to your well-being. For example, although you can look into getting Alzheimer's and dementia training, as these conditions can be very distressing for the patient and their loved ones, putting your parent into a specialist memory care facility might be the best option. This Table Rock memory care community is a great example of the excellent care dementia, or Alzheimer's patients will be provided with in one of these facilities. There are also assisted living residential homes, nursing homes, and other senior care options you can look into if caring for them at home isn't working for you or your parent anymore.
Practice Self-care
As mentioned previously, looking after your elderly parent is a big responsibility, and it can take a toll over time. This is why you must be taking time for yourself and following a great self-care routine. Eating a balanced, nutritious diet to keep you fit and healthy is one way to do this and get enough sleep each night. Taking a relaxing bath or hot shower at the end of the day, treat yourself to dinner out with your partner or friends, or even getting a massage once a month are all great examples of the things you can do.
Looking after an elderly parent yourself is a very kind and honorable thing to do, but there is also nothing wrong with looking asking for help or exploring other care options. The bottom line is you need to make sure the decision you make is right for you and your parent, so you can both remain happy and healthy. If you want to try caring for them yourself first, use them to help you prepare for this responsibility.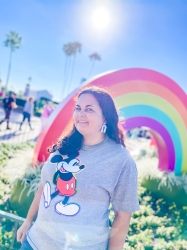 Latest posts by Krystal | Sunny Sweet Days
(see all)