Ways You Can Save Money On A Last-Minute Getaway
Finding and booking a last-minute getaway does not have to cost you a small fortune. There are plenty of ways in which you can save money on getaways—you just have to be prepared to think a little bit creatively and open your mind to potentially embracing a new location. Whether you travel to an exotic destination or you stay closer to home, there are always deals to be had—you just need to know where to find them.
Focus On Your Accommodation And Look At Self-Catering
You can control your food and drink costs when you go for self-catering accommodation. From fully serviced apartments to en-suite rooms, there are lots of places where you can just rent a space suitable for you and those who you are traveling with. When you go self-catering it is important to ensure that there are a good selection of restaurants and eateries around you, or you will end up spending your whole getaway cooking. Accommodation can be as affordable as you want it to be and in order to snag a last-minute bargain you need to make use of sites such as Airbnb. You will also need to contact hotels and bed and breakfasts who will offer favorable rates due to them trying to boost their numbers and fill their vacant rooms.
Use And Prebook Your Airport Parking
Flying to a vacation destination can be made even cheaper when you prebook those add-ons and additional items as early as possible. Getting a good parking spot with parkon.com will ensure that you can leave you car easily and safely, and at a good price, too. Leaving your car at the airport will also save you rushing around trying to find transport to and from the airport, which can add unnecessary and unwanted stress onto your last-minute getaway.
Sign Up For Newsletters And Coupon Sites And Look Out For Freebies
Signing up to hotel newsletters and coupon websites can help you save a few dollars on your getaway. Hotels often directly email codes to new and existing customers, so ensure you have signed up to newsletters from hotels and other providers in the areas you will be visiting. Furthermore, who does not love a freebie? Often with a last-minute getaway you can struggle to get together enough cash to take part in any extra or additional activities—but fear not, as there are still lots of activities you can do for little to no cost, including free guided tours and free walks that are often put on by local tourist boards.
Be Truly Flexible And Open
To get the most out of a last-minute getaway or break you must be flexible with regards to where you are going and for how long. If you have work or other prior commitments, then you must ensure these do not get in the way of any getaways you have planned. To get the most out of a getaway you must be open and ready to embrace change. Having new experiences is what makes last-minute getaways even more fun and enjoyable, so enjoy every minute that you possibly can without breaking the bank.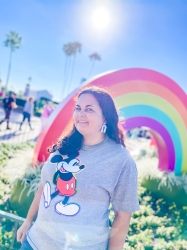 Latest posts by Krystal | Sunny Sweet Days
(see all)