Choosing a Great Glitter Gel Pen
Gel pens come in a myriad of colors, finishes, and even scents. The options are practically endless. It can be hard to narrow down your options, so here are a few features to look for when choosing thebest glitter gel pens.
The Right Colors
Some gel pen brands only come in a handful of colors, while others are available in practically every shade imaginable. Depending on the nature of your projects, a limited selection may be okay, but if you're delving into something more involved (such as a big art project), you might prefer a bit more variety. Consider the ink finishes as well — are you looking for a subtly radiant look, or something with as much shimmer as possible? Decide which style you're going after, and go from there.
The Right Tips
Gel pen tips can range in size from as small as 0.18 millimeters to upwards of 1.5 millimeters, with most of the glittery kind falling into the 0.25 to 1.0 millimeter range. You may need a variety of tip sizes for your work, or perhaps you'll do better sticking with just one size. Each one will consistently produce a line of a particular thickness (with some variation due to writing pressure), but keep in mind that the line may be thicker or thinner than the tip size, depending on the viscosity of the ink within. If you're not sure, pick up a variety of pens and see which ones suit your needs best.
The Right Ink
Not all gel pen ink is created equal. Though most will write on nearly any surface, some are limited to only paper. Some inks may be prone to bleeding or showing through paper, smearing due to slower-drying ink, or feathering (i.e., spreading along paper fibers). Many glitter gel pens are resistant to these issues due to the amount and type of pigment used and the consistency of the ink inside, but don't assume that your chosen pen will be immune to those problems. The only way to know for sure is to give your pen a test drive on the surfaces you will most likely use it on.
The Right Grip
Even if everything is right about the logistics of a particular glitter gel pen, you should still consider how it feels in hand. Does it have a cushy rubber or plastic grip, or is the pen plain? How about the positioning of the grip? What shape is the pen barrel? How wide is the body of the pen? These factors will each have an impact on writing comfort and, ultimately, the amount of time you'll be able to work with the pen. For extended use, you can also consider purchasing an external ergonomic grip, so the built-in pen grip (or lack thereof) may not be a dealbreaker.
Glitter gel pens are a fun, vibrant alternative to ordinary ballpoint pens. While the choices are nearly unlimited, a careful analysis of each pen's characteristics will help you decide on the perfect gel pen for your work.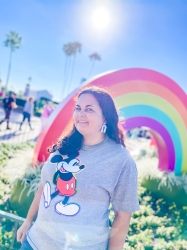 Latest posts by Krystal | Sunny Sweet Days
(see all)