Celebrate With Cake For 1 from Publix
This post is sponsored by Pinnacle Foods. All comments and opinions are my own.
I once read a book that changed my outlook on life. It was about how to find happiness in every day, and one thing really stuck out to me. One of the main themes in this story was to celebrate each day. Not only does that mean sending birthday cards to friends and family members, but it means looking for something to wish for and celebrate every morning. I found this to be refreshing and just thinking positively has made a big change in my life. One way to celebrate each day is to eat the cake. For real… just enjoy that dessert! I was so thrilled to find Duncan Hines® Perfect Size for 1® Cake Mix at my local Publix. Break out the confetti and sprinkles – let's celebrate!
Publix is known for their easy to shop sales, and from 7/21/18 to 8/3/18, you can buy any 2 Duncan Hines® Perfect Size for 1® Cake Mix and get 1 Duncan Hines® Perfect Size for 1® Frosting or Drizzles free (see here)! Imagine the possibilities as you sample the variety of flavors. Here's what I purchased!
I went with Duncan Hines Perfect Size for 1 Chocolate Chip Muffin, Duncan Hines Perfect Size for 1 S'mores Cake, and both the Duncan Hines Perfect Size for 1 Chocolate Frosting (NEW) and Duncan Hines Perfect Size for 1 Chocolate Drizzles (NEW). I found them easily in the baking aisle at my local Publix! There were a lot of choices, and I almost couldn't decide.
You can find happiness in a hot minute since it only takes ONE minute to prepare! Grab your favorite mug and enjoy a warm treat in no time. With one mug and endless possibilities, you can truly bake it your own. Add sprinkles, whipped cream, or your favorite mix-ins like chopped walnuts or even fruit!
My favorite part about these sweet treats is that you have the perfect serving amount each time. With simple ingredients and no artificial preservatives or flavors, these cakes, brownies, and muffins let you enjoy a treat at any time of day. Consider a warm delicious breakfast with the chocolate muffin variety or serve up a s'mores cake like I did with extra sprinkles.
Surprise a loved one on their birthday (or just because!) with a sweet snack in a mug. Add sprinkles, a birthday candle, and make a wish.
If you need a way to track birthdays and special events, use your phone. Add calendar events to remind yourself to do something special for your loved ones and stock up on birthday cards in advance. I use a planner to track special days, and I review it at the start of each month so I don't forget.
Pro tip: These mixes use water to prepare, however, you can choose to substitute with milk, juice, or even alcohol. Imagine a s'mores rum cake or a fruity lemon vodka cake! If you like hazelnut liqueur, there is a brownie mix that you can try as well.
These cakes, brownies, and muffins have one serving per pouch with four pouches per carton. The frostings and drizzles are also four servings per pouch which make it easy to keep fresh!
So, get ready to mix it, heat it up, and savor each and every bite. How will you create your sweet treat?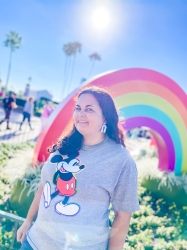 Latest posts by Krystal | Sunny Sweet Days
(see all)