What to Track in Your Planner
I was so excited to move into a new planner for the academic year, and now I'm going to show you just what I track in my planner on a day to day basis. It includes meal planning, water tracking, and even a place for snacks! I've got a new go-to snack for the school year as well, and I hope this inspires you to find your own organizational style for this new school year.
I have two planners.
This might sound crazy, but I promise that they have their purpose. It helps me stay focused on different projects when everything is in its proper planner. 😉 I have a planner that is a long-running to do list with daily tasks and errands. I then use a weekly planner for routines and an overview of my week.
What to Track on Your Monthly Calendar:
Bills
Birthdays and Holidays
Vacations
Goals
I keep my monthly view simple since I don't flip back and forth often. Important dates still have to be inside my weekly calendar view so I don't forget them! When it comes to deciding what to track in your planner, don't forget to prioritize your well-being by including a dedicated section for a self care planner.
What to Track in Your Weekly View:
Meals
Errands
Shopping Lists
Routines
Your one BIG task of the day
Too many tasks in your weekly planner will make it too messy and cause you to forget the big ideas of the day.
My Routines
I do write the same tasks from day to day (usually) in my weekly planner. It might seem repetitive, but it helps me remember what is important for growing my business. I also need to make sure that I'm tracking my water intake, snacks, and meals.
Overall the combination of using a daily planner AND a weekly planner is helping me stay focused as I work at home this year. Let's see how this momentum continues through the fall season.
How do you track your to-do lists?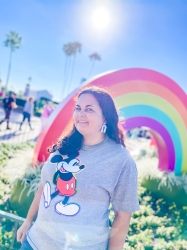 Latest posts by Krystal | Sunny Sweet Days
(see all)