Summer Sunshine Pie Party
Thank you Edwards® Desserts for sponsoring this post. Head to the frozen desserts aisle of your grocery store to pick up your favorite Edwards pie!
Ready to add a little sunshine to your day? Host a sunny pie party! And, when you use Edwards Desserts, you don't have to worry about anything melting! 😉 Turn up the heat and let's celebrate the last days of summer with a colorful and cheery party!
You might be wondering how you can serve pie at a party and not have a melted mess. Guess what? Edwards has frozen pies that are easy to slice and serve! I love that they are in the same aisle as ice cream, but they are an entirely different league. There's no DIY required for this sweet treat. All ingredients are already included.
The question is which flavor to pick?! I opted for two, and Edwards Turtle Pie won me over with a smooth caramel filling infused with rich caramel, topped with chocolate, pecans, and whipped crème rosettes! Plus, the chocolate cookie crumb crust is a real show-stopper. We certainly are going to savor every bite!
You won't need a cherry on top! The flavor is plentiful on these desserts. I love that this doesn't melt like ice cream. It's better to thaw a pie than to melt! 😉
Summer Pie Party Ideas
Serve Edwards. I picked up the Edwards Cookies and Crème Pie since I wanted a fluffy vanilla crème with chocolate cookie chunks! The dark chocolate cookie crumb crust was delicious, and it has whipped rosettes and a cookie crumb garnish! It is a show stopper for sure.
The pie is frozen and refreshing, but it doesn't melt like ice cream!
Set up colorful party decor. Use yellow items for a striking and sunny theme. I love to set up fresh flowers like tulips in a yellow hue. I also have a mild obsession with pineapples, so I have a lot of pineapple decor on hand.
Use cake stands and plates to set up Edwards. Cake stands can hold a pie too! I love to collect cake stands and love using them to set up desserts. A summer party needs a good cake stand!
Ready to win and try it for yourself?
Enter to win One (1) of 16 free product coupons for an Edwards pie of your choice. Giveaway runs August 12 – August 28, 2019. Winners will be randomly selected and notified by CLEVER on Fri., August 30, 2019.
a Rafflecopter giveaway
Set up a summery sweet summer party with your favorite flavor! Which pie do you want to try first?
Summer Party Ideas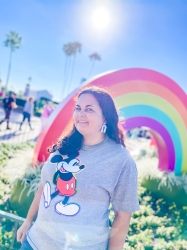 Latest posts by Krystal | Sunny Sweet Days
(see all)