4 Reasons Why You Need Comfortable, Reliable Boots
Cowboy boots have become all the rage in modern men's and women's fashion, offering a change from sneakers, heels, flats, and other run-of-the-mill footwear. Not only do boots add style but they're also comfortable and reliable enough to work their way into your regular outfit rotation. If you're still on the ropes about whether you should join the ranks of boot-wearers, here are a few reasons to consider a pair for your closet.
Versatility
Put fashion aside for a minute, and you'll find that boots are one of the most versatile pieces of footwear on the planet. A solid pair of boots can work for just about any occasion, event, or activity. Justin Boots from Russell's offer a variety of options for hiking, everyday use, or work. Whether you're out to make a statement or just get from point A to point B, boots offer unrivaled versatility.
Durability
Made from high-grade leather, boots have unmatched durability compared to nearly every other type of footwear. While they might cost a bit more than some other options, you get a solid return on investment for every year you own the boots. Most are designed for cowboys, and due to that profession's nature, they can withstand mud, snow, dung, gravel, and pretty much anything else thrown in your path. With a quick cleaning and a coat of boot polish, your boots can even return to like-new condition.
Medical
According to medical professionals, wearing a comfortable pair of boots can reduce foot discomfort, fatigue, and pain associated with wearing other types of shoes on the job. The key to enhanced comfort and healthy feet lies in the 1- to 2-inch heel. This helps relieve stress on your Achilles tendon. If this tendon is injured, it can put you out of commission for awhile, so keeping it healthy is vital.
The metal shank, which is part of the supportive structure between the boot's outsole and insole, is another reason why many foot specialists endorse boots. This shank is typically far more supportive than other types of footwear, decreasing foot pain and providing a bit more support to high arches or flat feet.
Always in Style
While cowboy boots have been around in some form or another for nearly two centuries, most historians credit Charles Hyer of Kansas City as the inventor of cowboy or Western boots. In 1875, Hyer worked near the Kansas City stockyards. One day, a stockyard worker asked him to create a taller boot with straps that made them easy to put on and a pointed toe to make it simpler to get into a pair of stirrups. Armed with these ideas, Hyer created the world's first pair of modern cowboy boots.
While the first boots were more practical than anything, they've been around for nearly 150 years, demonstrating their style and comfort, while proving they aren't just a fad. With any luck, they'll be around for 150 years more.
With a comfortable, reliable pair of boots, you get more than just footwear. You get a fashion statement, work-friendly attire, and more wrapped into one.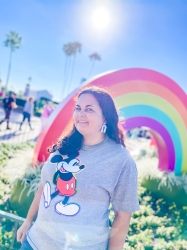 Latest posts by Krystal | Sunny Sweet Days
(see all)