What to Wear to an Engagement Party as a Guest
Have you been invited to an engagement party and you are not sure what to wear? Not to worry. An engagement party often preludes a wedding; so, while it's a celebration on its own, it isn't usually as formal or as big as the wedding. Engagement party outfits for guests would be something you would wear to a celebration. But it's important to pick carefully, especially if this engagement party has no specific dress code.
If there is a dress code, then great, you have a guide on what to wear. If there is no dress code, however, there are still a few ways to gauge what would be a good attire to wear and what would not. For instance, the theme of the party, if there is one. Understanding the overall theme of any occasion can help you decide on not just attire, but other aspects, such as wedding guest hairstyles. The season and location can also be helpful. A garden party would require a fun floral dress and a backyard party, perhaps something more casual. 
So, decipher the type of party, level of formality, location and theme, and build your attire, and even hairstyle from there. You can also read on for a few tips on male and female wedding guests attires and etiquette. 
General Engagement Party Attire Etiquette
Figuring out engagement party attire for guests can be tricky, but it's always best to err on the side of caution. For instance, when unsure, better to be a tad overdressed than underdressed. So, don't go full casual when you can go semi-casual. A dress instead of jeans, and dress shoes instead of sneakers. If there is a dress code, then that saves the day. Do what you can to align your attire with the required dress code. 
Other Things to Consider
Just in case the bride or groom to be decide to wear white, it would be best to not wear white at all. In other words, completely avoiding white engagement party attire, would be a great way to honor the guests of honor. Well, this is unless the dress code comes with said instructions. You can also avoid dressing to formally, so you wouldn't run the risk of seeming overdressed, perhaps even more than the couple.
Wear something comfortable
The dress to wear to an engagement party is never the tight one. Opt for something comfortable so you can really have fun and celebrate. The last thing you want to worry about is how to walk, sit, or if you're going to get a rip. You are going to mingle, meet old and new friends and possibly hug a lot. So, yes, it's important to look good, but it's also important to be comfortable.
Ideas for What to Wear to an Engagement Party
If you're attending a casual affair in the winter or fall, you can consider knits, wool and denim fabric options. If you want something a little more fancy, consider a top with some sparkle or glitter. Or if you'd like going all out, you can opt for a shimmery dress. Summer and spring events do well with light silk fabrics and cottons. Breathable material that won't restrict you, and allow you enjoy the weather.
Engagement Party Attires for Women
A dress is always a great idea. You can hardly go wrong with engagement party guest dresses. To feel relaxed and free to have fun, you can consider flat sandals paired with a long floral dress. If you prefer a short dress, especially in the daytime, pair it with stylish and comfortable sneakers. If it's a more formal dinner event, a nice cocktail dress in your favorite color or black would do.
If you are not up for dresses, then consider these for semi casual engagement party outfits. A stylish jumpsuit with low or high heels, depending on your preference. Another option is smart shorts with a sleek silk top and any pair of heels you adore. Above all, just aim to have fun.
Engagement Party Attires for Men
Deciding on engagement party outfits for male guests can be less tricky than for women. Since it's a time to have fun, you can consider something playful like matching tops and bottoms in a cool tropical print for a summer affair. If you want something even more interesting, try a short suit.
For a stylish look that will call less attention, you cannot fail with nice jeans, the classic button up shirt paired with a blazer or sport coat. Clean sneakers are always a good idea. And, if it's a fun barbecue, backyard affair or beach party, you can always throw on shorts and sandals with a comfortable top.
Sometimes it can be difficult to figure out what to wear to an engagement party, or any event for that matter. If there is not dress code for the event, then you are left with coming up with ideas on your own. However, since there are numerous ways of gauging what might be expected, just figure that out. Once you have that, you can conquer any event or specifically any engagement party you've been invited to. Look your best, be comfortable, honor the couple of the hour, and most importantly, have fun.
Author: Anastasia Beluschenko, with a specialty in wedding dresses, joined Wedding Forward over five years ago. She knows everything about wedding dresses from styles to trends, fit, and designers. Her great sense of style makes it easy for her to expertly predict the newest and hottest wedding dress trends. For leisure, she loves court tennis and stretching.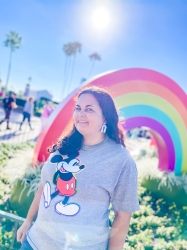 Latest posts by Krystal | Sunny Sweet Days
(see all)