6 Creative Tips That Will Help You Become a Wiser Online Shopper
Online retail stores have been on an upward trend lately. This is especially after Covid-19 struck in 2019/20, and online shopping became the most convenient option for most consumers. As anyone would expect, all these retail shops and e-commerce stores are heavily competing to attract traffic to their sites and make more sales. Many of them apply creative strategies to woo customers into buying more. Well, as an online shopper, you can either use this to your advantage or become a victim of impulse buying. Being a wise online shopper means taking advantage of the deals from online retails shops to save your shopping money.
In this piece, we shall look at six creative tips that can help you become a clever shopper.
1. Check Out Reviews
Before purchasing anything online, it is crucial to weigh your options carefully. If you need a new electronic gadget, for instance, online reviews can help you determine which brand, model, or company will give you the most value for your money. Professional product reviews from reputed sites will go a long way in helping you make smarter buying decisions when shopping online. They can also help you save the time and effort you would have spent conducting research on the item you want to buy to determine the best option for you. Most professional reviews will usually cover the details and information that matter, including:
Description of the product
Notable features
Pricing
Pros and cons
How it compares with alternatives in the market
From this information, you can approach your purchase well informed, knowing exactly what you want. Also, you may not have to visit one store after the other comparing prices.
2. Don't Rush into Buying the Latest
There is a pride that comes with acquiring an item before most people. Your happiness should always come first, but then, you need to calculate the cost of having that latest product you have just acquired. New products are usually more expensive due to what is referred to as release day price. This price is usually high at first but after the product has been in the market for some time, the price goes down. For example, when a new phone hits the market, the price is usually high. A wise shopper should be willing to wait for a year or so and then get the phone. At that time, the price will have lowered by a great deal.
3. Time Your Online Purchases
The time you acquire products plays a very huge part in how much you will pay. Being strategic in terms of the time you make your purchases will save you a lot of money when doing online shopping. This is especially true when it comes to making big purchases online. You will realize that there are certain days of the week when the items are a bit cheaper than others. These days may vary depending on the online retail shop you shop from. What is common to all is that, more often than not, the prices are lower at the end of seasons. You can use this concept to save money when acquiring the stuff you need.
4. Look for Coupons – and Utilize Them!
If you are an online shopper, you need to have a coupon site or an extension on your browser. Coupons are quite helpful in saving you money on a variety of purchases. Coupons usually offer your products at a discounted rate compared to making ordinary purchases. Before shopping online, consider checking out whether there are any available coupons on or for the site. Some retail stores have browser extensions that make it easy to detect available coupons.
5. Read the Terms
Being wise in online shopping also means reading the terms and conditions provided by your online retailer. It means understanding the legal aspects and practices concerning shipping, refunds, warranty, and conflict resolution, among other things. Having this information in mind means you know what to do if the products you received weren't what you ordered or if the quality didn't match your order. It helps you save time and avoid inconveniences.
6. Keep Records of Your Purchases, Payments, and Receipts
Online shopping is one of the good things that the 21st century has offered us. The ease of shopping and the multiple discounts we get from it are some of the things most of us like about all online purchases. It is, however, good to keep in mind the risks that come with online shopping. This is especially the case when making payments using your credit card. Keeping records for any purchases and payments you make can come in handy in case an issue arises.
Online shopping can be quite economical if you are a wise shopper. You can do it safely and conveniently from the comfort of your couch, office, or even while on the go. The tips in this piece should help you enjoy the benefits of online shopping to the fullest.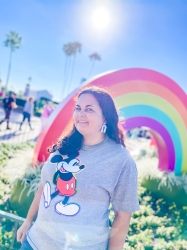 Latest posts by Krystal | Sunny Sweet Days
(see all)