Comfortable Office Shoes For Women
Since in recent years, more and more women have started to work in various office environments, the demand for office shoes has increased. But the number is still very less as compared to men, and hence there aren't as many office shoe options available for women as compared to men. Thus, women have to consider shoes made for other occasions for office shoes.
Pumps
Even though pumps also have a heel, it is relatively shorter than that of high heels and hence are way more easier on your feet. What's more is that a solid black color pump is the go-to shoe choice for many office-going women, especially those who are in higher positions and frequently go to business meetings and formal dinners. Hence, pumps for women are also considered to be formal shoes. When it comes to pumps for women, you can consider BURUDANI shoes. BURUDANI provides huge selection of comfortable knit pumps for women that are suitable for standing all day. The brand also offers other types of shoes including slingback heels, oxfords, flats and more.
They specialize in shoes for women, especially office-friendly shoes. Comfort is their first priority. They also ensure that most of their shoes are breathable and flexible so that they last you a long time and in all those times, give you a peaceful experience. BURUDANI SHOES are made out of eco-friendly materials. Hence if you are concerned about the environment, you need not worry at all here. When buying shoes from them, watch out for their frequent discounts.
Flats
If both the high heels and pumps are painful for your feet, then make sure you have a look at a pair of comfortable Flats. These shoes, as the name suggests are flat and hence do not apply any pressure to your feet. What's more, is that these shoes have an open-back design and so they provide a good amount of airflow during hotter days and thus are comfortable as well. But if you are concerned that the lack of any shoe lace or strap will make it slip out frequently, then worry not as this is taken care of by the pointed-toe design at the front of the shoe.
Sneakers
If you are completely new to the world of female footwear fashion and are looking for your first pair of office-friendly shoes, look no further than the sneakers. This is because unlike all the other shoes mentioned on this list, sneakers, other than formal can easily be worn on all occasions. These shoes are also capable of easily being matched with a majority of female clothes in the market, including a wide range of office outfits as well. When speaking of style, sneakers are no stranger here either. In a majority of the case, they offer you a youthful look that many women love. Overall, they make you look friendlier in nature.
Open Toe Sandals
Similar to the Flat Mules mentioned above, the Open Toe Sandals are known for comfort too. But unlike the Mules, these shoes are provided with straps for fastening and have openings not only at the back but at the sides and front as well. Thus it provides better airflow when compared to Flat Mules. As for clothing choices, no matter which you pick between flat-heeled or chunky-heeled sandals, they match well with jeans and cotton pants.
Chelsea Boots
There are a handful of different ankle boots available for women in the market. And the one that stands out is the Chelsea Boots. These boots are unique in their looks. They have stretchy side panels that provide an aesthetically pleasing look. These side panels are also responsible for holding the shoe in place and are also capable of fitting a foot that is slightly larger than the overall size of the shoe. Additionally, due to the thick fabrics that these shoes are made out of, they are considered to be one of the most preferred shoe choices among women during colder days.
Block heel sandals
Block heel sandals are one of a kind. They are one of the most loved and bought shoes among women around the world. There are block heel sandals just for parties and date nights to high heels for everyday office purposes. This means certain heel sandal matches with a majority of the clothes made for women, including office outfits as well. Thus, if you are in the market on a budget, it is wise to look for that block heel sandals that suit most of your clothes. Also, even if you are not a fan of heel sandals for offices, it is still worth buying a pair as they can come in handy during your various office parties or colleague birthdays.
Penny Loafers
One men's shoe that has grown immensely in popularity among women is the Loafers, especially the Penny Loafers. Penny Loafers are semi-formal in nature. When matched with the right outfit, they offer a certain amount of classiness and style that none of the other shoes on this list does. As for clothing options, anything from the formal and semi-formal sections suits well with this shoe. Additionally, you can also pair them with jeans and cotton pants, giving you plenty of clothing options and hence making sure you are office read.
Final Thoughts
To conclude, even though the choice of office shoes for women are not many, you can expect this number to increase in the coming years. Now, even if other shoes like knee-high boots can be paired with office clothes, the ones mentioned above are what most women prefer. But if you like knee-high boots more, feel free to go with them. Additionally, before buying your office shoe, determine the type of clothing you would be wearing the most during your office hours. This will help in deciding the shoe a lot easier.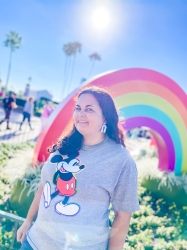 Latest posts by Krystal | Sunny Sweet Days
(see all)