Prom is a high school tradition that is an actual event in a teenager's life; it's a night where they can dress up, have fun, and celebrate their accomplishments. It is a source of pride for students that creates lasting memories. Plus, a milestone for high schoolers beginning their adulthood.
Consequently, competitions erupted as students vied for the best outfit, mode of transport, and best-looking date. You may have someone in your mind to go on a date with, but now when the event approaches near, you must be thrilled to decide what to wear and how you could look slaying on the dance floor.
It's time to find the look of your dreams. Here are some excellent tips to look gorgeous in different styles on crazy prom night fun.
Fairytale Look
It is challenging to enter this world of magic. What can you do to evoke your charm?
Exhibit a land of spellbinding wonder with magical princess costumes to match that perfect fairytale theme. You can pick on some fairytale characters; for instance, the famous character Little Red Riding Hood- wore a satin hooded red cape, white peasant top, red, billowing, twirl skirt, and a brown corset. Go for the one with a touch of extra flair and fuse it with a different long hooded cape to merge with today's trend. Finish the look with a basket full of baked goods.
Vintage Look
Perfect any prom look with styles of decades past. They are unique and feminine. It could be overwhelming and time-consuming to buy that ideal vintage prom dress. But keep your chin up, and keep reading.
There are a variety of vintage prom dresses available but go for the ones that look best for your height and shape. You can choose off-the-shoulder, one-shoulder, sexy curves, or plunging V-line necks. Go for floral, lacy, or even sequin, shimmer sparkly satin that stands you out from the crowd.
Plump for a classic design that shows off your shoulder blades, and remember to pair it up with a good set of accessories, either from that period or even contemporary, as you prefer.
Rock your Prom with a vintage delight!
Disney Look
Make your Prom a night to remember with the meeting with some Disney characters and looks.
Everyone has a favorite Disney character. The Disney universe has many iconic duos like- Mad Hatter and Alice; you can choose their costume as couples.
In particular, if you want the look of Elsa from Frozen, make a fish-tail braid swept to your left, select a glittery strapless dress that is light blue, accessorize it with a sheer icy blue cape with snowflakes patched on them and wear pale blue heels. Complete the look with a floor-length bodice dress with matching gloves. Wear your accessories accordingly.
Rockstar Look
Time to let loose with this unique party look. You can dress up as your ideal rockstar like Bon Jovi or Keith Richards, or even pose as modern Elvis Presley.
You can also pick and rock your unique look with tight pants, electric guitar, experiment with your hairstyle, and take the center of the party with this exciting theme. Make sure to learn a couple of tunes and play them on request.
To Sum Up
Follow the tips in this article to stop your hunt from looking marvelous and easily match any theme or style. Make your prom the best epic night ever, and cherish memories with your friends in the most classy and stylish manner.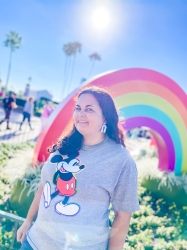 Latest posts by Krystal | Sunny Sweet Days
(see all)