Going on a Fishing Trip? Here's How to Dress Properly
If you're planning on going on a fishing trip, it's important to dress appropriately. You'll need to wear clothes that will keep you warm and dry, while also allowing you to move around easily. This blog post will discuss the best clothing options for a fishing trip. It'll also provide some tips on how to stay comfortable and safe while fishing.
Bottoms
Wearing waders is a great way to keep your feet warm and dry while fishing. Waders are made of rubber or neoprene, which makes them waterproof and resistant to punctures. They come in many different styles and shapes so there's something for everyone. Rest assured that if you have a big body built, you will have no trouble finding waders for big men. This is because many manufacturers cater to this need. Rest assured that you will be able to find a good pair of waders at your local sporting goods store.
There is also the option for you to wear rain pants. These will keep you dry, as well as allow for a good deal of mobility. This is especially true if you are wearing them over waders or other waterproof clothing items that are designed to be worn underneath your outerwear layer. However, you have to consider the temperature that you will be in while wearing rain pants. If it is very cold, then you might want to opt for the waders instead.
Another option on what to wear while fishing is neoprene shorts. This material is very comfortable and will keep you warm. It also dries quickly, which is ideal if you happen to get wet while fishing. Additionally, these shorts are great for wading in cold water because they provide insulation against the cold.
Boots
Wearing boots is another way of keeping warm and dry while fishing. There are two types of boots: rubber and neoprene. Rubber boots will keep your feet warm, but they can get heavy when wet. Neoprene boots on the other hand are lightweight, comfortable, flexible, and waterproof. They're also a great option for people who are prone to cold feet.
Tops
A rain jacket is another essential piece of clothing for fishing trips. It'll keep you dry in the event of a downpour, and it'll also protect you from the wind. There are many different types of rain jackets available on the market, so you should be able to find one that suits your needs. You can choose from a variety of colors and styles, so it's important to find one that you'll feel comfortable wearing.
In choosing a rain jacket, it's important to make sure that it's made of waterproof material. This will ensure that you stay dry even in the heaviest rainstorms. You should also look for jackets that have zippers or Velcro on the sleeves, so you can easily take them off if necessary.
There are many different types of fishing vests available on the market. If you want to be safe while fishing in cold weather conditions, then a thick vest is an essential item to bring with you. A good example of this is a vest is made with PrimaLoft insulation, which will keep you warm even in the coldest weather conditions. Also, choose something with a variety of pockets that are perfect for storing your fishing gear.
If you're looking for a lighter option, then you may want to consider a fishing shirt. These shirts are made of lightweight materials that can be easily stored in a backpack or tackle box. They're also great for layering, which means you'll have more freedom to move around and cast your line without getting tangled up in clothing.
Fishing Hat
A fishing hat is a must-have item when going on a fishing trip. It'll keep your head warm and dry while also protecting it from the harmful UV rays of the sun. The best type of hat for this purpose is one that has a wide brim all around, so be sure to purchase one that's specifically designed for wearing while fishing. More often than not, these hats also contain a flap that covers your ears, which will protect them from getting sunburned.
Gloves
Gloves are another essential item for fishing trips. They'll keep your hands warm and dry while still allowing you to have the dexterity necessary for handling fish or bait. A good pair of gloves is made with waterproof material and has a gripping palm. This will ensure that you stay warm and dry while fishing, even in the coldest weather conditions.
When it comes time for your next fishing trip, make sure you dress appropriately. This will ensure that you're comfortable and safe while fishing in any weather condition. Rest assured that you'll be able to find the perfect clothing for your needs at your local sporting goods store.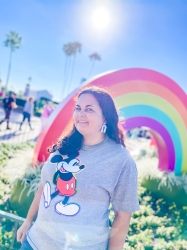 Latest posts by Krystal | Sunny Sweet Days
(see all)