How to Add Color to Your Home
It's always nice to enjoy a makeover. When you take the time out to change your living environment and its overall appeal, this does a lot for your mental health. It stimulates the mind, keeps your creative juices flowing and makes it fun to come home. Who doesn't want to come home to a beautiful place? So, if you're at a loss for what to do to add new life into your home, try these four tips.
1. Pull out the stencils.
Purchase a fun stencil. You can choose a specific shape like an eye or the silhouette of your favorite animal. Because stencils can be so impactful, it's a good idea to try it on a small wall. It can easily serve as a delightful detail in your home that makes a big impact. Before you get started, make sure that you use flooring paper to protect your floors. You don't want to accidentally stain the floors with paint.
2. Hang large pieces of artwork.
One of the amazing facts about art is that it's debatable. There's no right or wrong way to judge it. Knowing this, you can become an artist. Purchase a few small cans of paint along with the Trimaco products to protect the floor. Additionally, purchase the largest frames you can find. Paint the frames an ornate, rich golden color. Buy a large roll of white paper. Cut out three large pieces of paper. Paint each one a different color. Let them dry and then frame them. Hang all three pieces next to each other and allow the art to fill one wall. It'll easily become a stunning display and it'll look very expensive.
3. Add a large area rug.
An area rug is perfect. Unfortunately, many people make the mistake of purchasing the wrong size. Before you purchase an area rug, take a look at the size of the room. Take the time to measure the room so you can have an accurate gauge of what to look for. An area rug can easily fill up a space and add beauty. Consider a fun texture like bamboo or a bright, colorful pattern to add some pizzazz to the room.
4. Change the lighting.
Lightning has the potential to be one of the easiest projects for a few reasons. If you want to purchase standing light fixtures, you can place them in the corner, on top of the side table or hang them from the ceiling. If you'd like an option like recessed lighting, you can easily pick up the phone and call a professional to take care of that job. If you don't know anything about electrical wiring, it's best to steer clear of the DIY attempt.
Home Decor Ideas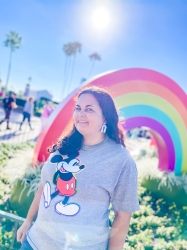 Latest posts by Krystal | Sunny Sweet Days
(see all)