4 Spaces to Update Before Selling Your Home
Whether you've decided it's time to move into something larger or you want to downsize, selling your home takes effort. Before you can list it, you need to make it as appealing as possible. Check out these ways to update your space and draw in potential buyers.
1. The Outdated Kitchen
The kitchen is often one of the biggest deciding factors for potential buyers. If it was obviously put together in the 1990s or earlier, fewer people are going to have interest in the home. You don't need to gut the entire place (plumbing is too expensive for that) but spending $10,000 or so on stainless steel appliances is a good idea. Modern appliances upgrade the look of the entire room and draw in all types of buyers.
If you can swing it, upgrading the countertops to granite or quartz is also a good idea; if you can't, look for affordable alternatives that don't make the room seem dated. Finally, even doing something as affordable as refacing the old cabinets and adding new faucets on the sink can give the kitchen a bit of extra "oomph."
2. The Drab Basement
This is one of those rooms that you can skip if you don't have a lot of cash for remodeling but that can also add an extra touch if you want to get the most for your home. However, avoid creating anything too customized since families often want to add their own touch.
On the cheaper end of the spectrum, giving the basement a thorough cleaning will make it look less daunting to potential buyers. If you can afford to, finish the space by adding some paint and carpet or creating a laundry nook. These basic touches are modern enough to add a bit of value but basic enough that the buyers can still customize the space to their liking.
3. The Beat-Up Bathrooms
Like the kitchen, you need to update your bathroom before selling, and like the kitchen, you should keep the bathroom's bones to save money. Even a few mild changes will give your bathroom the makeover it needs to draw in buyers. Deep clean the grout between the tile. Update the medicine cabinet and faucets to something modern. If the light in the room is drab, consider adding more light fixtures or upgrading bulbs to create something more inviting. Open shelves and a new coat of paint also perk up the place.
4. The Lack of Curb Appeal
Appearance is important. The view of your home from the street makes the first impression. Keep the lawn mowed and plant some flowers or shrubs if it looks bare. If you can, add new paint or siding to the house; if you're on a budget, power wash it to make it look as good as possible. Ensure the gutters are in place properly and remove any debris or anything else that seems unsightly.
 If there have been problems you have needed to fix but have avoided them, it's important to get them done right away. An issue with the roof could mean that you will have to sell your property for less because it's not as safe as it could be. Companies like Mr Roof can easily do this. The important thing to remember is to not paper over the cracks thinking that you can get away with it. Curb appeal can be achieved by a few hacks but you still need to make sure the home is safe too.
To further save money, you may want to do everything yourself. For some jobs, such as upgrading faucets or painting, it isn't a bad idea. However, if you'll be installing new appliances, adding carpet to the basement or working on the outside of the home, consider hiring a professional. Doing so ensures the job is done correctly and prevents you from spending more money to fix errors down the line.
Home Decor Inspiration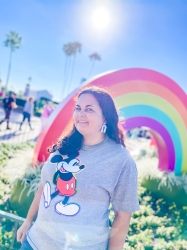 Latest posts by Krystal | Sunny Sweet Days
(see all)