MegaCon Tampa: Guardians of the Galaxy Cosplay
You know you nailed your costume when random convention-goers stop and ask to take a selfie with you. That was the case at this year's MegaCon in Tampa. Although it wasn't for me this time. Even though I feel I pulled off a respectable Peter Quill, it was tiny Thanos that was the hit of our entourage.
While these comic book conventions have a lot of fun activities to offer for families, it is the cosplay aspect that has been a consistent favorite year after year. That's why we tend to have some fun when it comes to picking out our costumes for the event. Over the last couple of years, I've discovered a knack for putting together costumes that are simple, yet clever, and usually cost under $25 bucks.
The key to my costumes is often picking characters when they are out of their full superhero suits. With a few accessories and a little creativity with my facial hair, I can recreate a lot of different heroes from Tony Stark to Old Man Logan. For this year's MegaCon, I tried to go with the "Star Lord at a galactic flea market" look.
For this costume, I started with a replica long-sleeve t-shirt like Chris Pratt's character wore in Guardians of the Galaxy Vol. 2 (available at Amazon starting at $15.95). The accessories included a faux leather sling bag (also available on Amazon), a pair of headphones (purchased from the dollar store) and a baby Groot action figure (which he already had). With a little creativity with a razor to cut my beard into mutton chops and a stubble 'stache on my upper lip.
But just like the actual Marvel Cinematic Universe, I was no match for Thanos. What inspired my son to want to be the biggest bad guy in the MCU, I'm not sure but since he is the reason we all dress up in the first place, we let him pick whatever he wanted to be. With kids, it is probably easiest to just go with a full store-bought costume (that way it can also double as their Halloween costume without breaking the bank). He wanted the Mad Titan as soon as he saw it on the rack.
We barely made it through the gates of the Tampa Bay Convention Center before people wanted to take pictures with him. One even offered up his ornate, hand-made guantlet for picture purposes. Since he is a bit of a ham in front of the camera, he really liked all the attention from people, including professional cosplayers, who came to him asking to take a picture with "Baby Thanos."
It even turned into an impromptu flash mob of Guardians of the Galaxy characters at one point. It was proof that you don't need to spend a bunch of money to have fun dressing up.
While the costumes might have been one of the most memorable parts of MegaCon, there was lots of other stuff to do as well. One of our favorite exhibits included the droid booth that had an assortment of life-size replicas of famous robots from the world of science fiction like R2-D2 and BB8 from the Star Wars franchise and Wall-E.
Or the numerous exhibits which featured props and other items from our favorite shows.
And of course, all the booths where Cannon could shop. He's big into collecting things, especially LEGO mini figures. He couldn't wait to visit this booth again.
We go to MegaCon every year, and it is an event not to be missed. There are two events – one in Orlando and one in Tampa – and they both have a lot to offer families. The key is to go in knowing what panels you can't miss and with a budget for shopping, photos, and autographs. You can follow MegaCon Tampa Bay online on Facebook, Instagram, and their website.
Guardians of the Galaxy Cosplay Ideas


Guardians of the Galaxy Kids' Costumes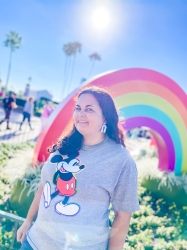 Latest posts by Krystal | Sunny Sweet Days
(see all)