Create Savings Jars + Track Expenses With a Free Budget Tips Printable
This post is part of a social shopper marketing insight campaign with Pollinate Media Group® and Payoff, but all my opinions are my own. #pmedia #payoffmindset #whatsyourpayoff http://my-disclosur.es/OBsstV
I know a thing or two about spending money. I lived my entire life receiving an allowance that went toward candy or movies, and I never saved a cent. My spending mindset didn't change when I hit college, and I managed to rack up thousands of dollars of student loan debt to get an education. While I had leftover money for room and board and books, I could have made smarter decisions from the start. Perhaps enrolling in a more affordable university, living off campus, or renting textbooks instead of buying them could have altered the course of my life as I know it.  Either way, I'm now looking at starting my thirties with debt and no plan to get through it.

When the new year began, I knew I needed to start with the basics. These everyday tasks can help establish healthy finance habits, and they will inspire me to make positive change with my income. These simple steps have already helped me get through January with my head above water, and I can't wait to see what I can pay off in 2015.
Simple Budget Tips

1. Make savings (and spending!) jars. If you have small children, this might be the most fun project. Using plastic or glass containers, make no-fuss savings and spending jars. Call it a change jar, a penny pouch, or just a place to dump your dollars, being able to SEE your money is very helpful. I'm not a huge fan of the envelope system (I could never get it to work for me), but having a simple change jar reminds me what I have (and just how far I have to go).

Those pennies can add up, and at the very least, they help pay my tolls when I'm coming home. Yes, I do have a toll bridge I have to use every time I want to leave my little peninsula of paradise!
2. Track it. You know that if you don't write it down, it's not a real goal. When you see what you're trying to accomplish on paper, it becomes tangible. I know that a pretty printable helps me remember to reach my aspirations or long to do lists, so I created a savings and spending printable for you to use too!

The idea is simple. Print one out each month. List your TOP FIVE savings goals and TOP FIVE expenditures. Why only five? Well, that should help keep you in check. If you have more than five major spends a month, perhaps you should re-evaluate what you're buying. I don't include bills in this column (though I could), but rather large ticket items that need to be purchased. As for the savings column, I write notes like "transfer 10% of my last paycheck into savings" or "cash in change jar for savings account." The more accountability you can offer yourself, the more successful you will be.

3. Every cent counts. Don't discount those hidden pennies under your floor mat in your car or dimes from dusty pocketbooks. Collect your change and count it periodically. You will be surprised at how far it can go.

4. Use Payoff.com. It is OKAY to ask for help. With Payoff.com, you can learn more about how to simplify your life and your finances.

Completing the application for Payoff does NOT impact your credit score. I went through the process and felt safe and confident providing my information. There are no risks or hidden fees.
 
Look into the key benefits and see if it is helpful to you. If you want to STOP the calls from debt collectors, I'd look into this service.

If you apply and don't get approved for a loan, Payoff can still help. They have a product called "Lift" that is designed as a credit and money education platform to help you get control over simple areas of your financial life. Don't feel burdened by debt. Look into Payoff and see if it's right for you. You can find them on Facebook too.
5. Find a second source of income. Whether it's selling used items or freelance writing, a small gig here and there can make a big difference in your monthly budget. I currently work with several streams of income so that I can make sure my monthly bills are met. While many of us don't have extra time to dedicate to a second job, there are small things that you could do each month to reduce the strain on your monthly budget.
What's your best budgeting tip?
[amazon-related-products keywords="budgeting books"]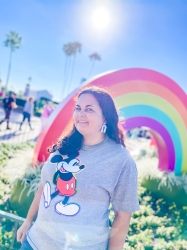 Latest posts by Krystal | Sunny Sweet Days
(see all)