How to Use HelloFresh to Simplify Your Life
Have you every heard of meal delivery service? If you haven't tried them, you have not been living. Meal delivery services are the way of the future for busy working individuals. This service has helped me become more organized, save time, and enjoy more quality time with my family. One of my favorites that I have tried so far has been HelloFresh. It is a weekly meal subscription where yummy (and sometimes healthy) meals are sent to you to cook. Keep reading for a HelloFresh coupon so you can try this service yourself.
Hello Fresh Review
HelloFresh arrives to your door on the day you request. You have the option to skip a week or take a vacation, and it is easy to cancel if you find that you no longer need the service. You will receive all the food, spices, and condiments along with the directions to make you and your family meals. This type of subscription will save a lot of time grocery shopping and will also make you look like a great cook. You will experience all types of food that you never imagined eating.
TRY HELLOFRESH TODAY
Are you ready to try HELLOFRESH? Save $50 on your first two boxes before September 30th! Use code SEP50HF and shop with this link!

HelloFresh features convenient meal options that are easily prepared by even the busiest households. Specially designed, recyclable packaging keeps food fresh, so packages can wait patiently. HelloFresh provides everything but the chef!

Jamie Oliver created this wonderful idea. These recipes are created by some of the best chefs around the world and are very simple to cook. All you need is your own cookware and utensils to turn your subscription meal into a scrumptious home cooked meal. After using HelloFresh for a few weeks, I realized that I needed a garlic mincer (since I frequently had recipes that needed fresh garlic) along with a new cutting board and sharp knives. While all the meals arrive mostly prepped and ready to go, you do need to chop vegetables, mince garlic, or do other light cooking.

Ingredients are all pre-measured so there is no guess work involved or waste. This was prehaps my favorite part! Some of the different recipes that I have tried were rosemary skewers, pizzas, and seafood salads. I know longer think about different ideas on what type of healthy foods I should prepare. Here is a sample of how the recipes show you the step by step instructions. This was for a shrimp taco night.

HelloFresh has free delivery service, delivery dates which you choose that meet your own schedule. You can choose vegetarian or meat options or mix and match. You can preview the recipes and select your favorites or let HelloFresh decide for you.

The meals are roughly around ten dollars which some people may think its not in their budget however the convenience is great because you will save time and gas.You will have everything at the tip of your hands.
Have you ever tried HelloFresh?
Meal Planning Services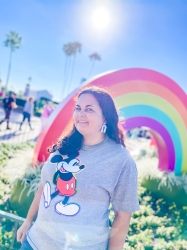 Latest posts by Krystal | Sunny Sweet Days
(see all)